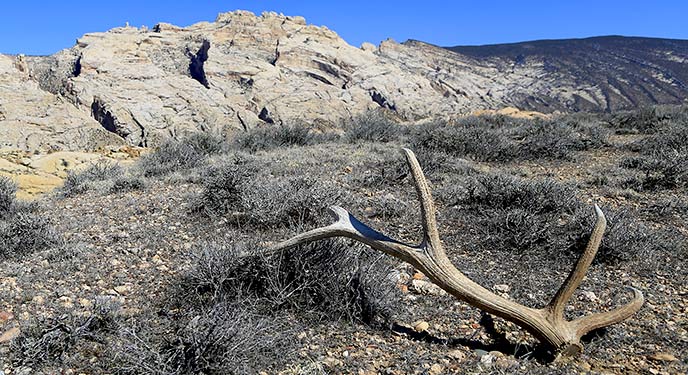 News Release Date:
April 9, 2015
Contact: Dan Johnson, Chief of Interpretation and Visitor Services, (435) 781-7702
Contact: Zach Parkes, (970) 374-3022
COLORADO & UTAH –Gathering shed antlers is both a popular and lucrative activity for many people - with antlers used for everything from chandeliers, to knife handles, to dog chews. Monument staff are reminding antler hunters that all items, including deer and elk antlers, within Dinosaur National Monument are protected by law and may not be removed. Collecting antlers is a violation of 36 CFR 2.1(a)(1)(i), which covers possessing,removing, or disturbing wildlife parts such as antlers. Violating this regulation will result in a fine up to $5000 and/or up to six months in prison.The monument's boundary is generally well-marked by fence and boundary signs, but shed collectors are responsible for knowing who manages the property they are on and its rules and regulations.
Shed antlers are a food source that provide nutrients, such as calcium, to many small mammals. These small mammals pass those nutrients on to other larger mammals and birds, such as bobcats and hawks, when they are caught and consumed. Disturbing elk and deer during early spring when food sources have yet to green up and an animal's fat reserves are at their lowest can also cause stress leading to starvation or the death of unborn calves.
Sites like Dinosaur National Monument were established to protect natural and cultural resources unimpaired for the enjoyment of future generations. "We want people to experience all the tremendous beauty of Dinosaur National Monument including its wildlife," stated Superintendent Mark Foust, "while leaving the monument as they found it for others to also enjoy." In addition to antlers, this includes archeological remains, fossils, and items, such as rocks, feathers, nests, and plant material.
For more information on Dinosaur National Monument, call us at (435) 781-7700, or follow DinosaurNPS on social media.