Hoplosuchus kayi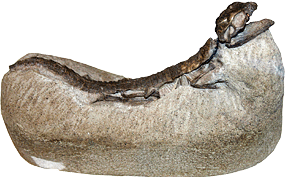 About Hoplosuchus kayi:
Hoplosuchus is a long-limbed, running, terrestrial crocodile. Although fully grown, this terror is only 7 in (17.8 cm) in length. The conical, pointed teeth indicate it probably ate insects and small vertebrates. Although there are no such dwarf crocodiles alive today, they were fairly common in the Mesozoic (Age of Dinosaurs).
Why is Hoplosuchus kayi a superstar?
Only one Hoplosuchus has ever been found and it is an amazing specimen. The skull, limbs, vertebrae, and armor are all present, and three dimensionally preserved. Even a century after its discovery, Hoplosuchus is one of the most complete and well preserved small vertebrate skeletons ever found anywhere in the Morrison Formation.

Jurassic Fact: This relatively small specimen was found when paleontologist "Pop" Kay sent his 10 year old brother-in-law to dig a hole for dynamite. After the explosion the two halves of the skeleton were found in the rocks blown off the hillside. For the full story, see "A Fishy Croc Tale."
For more information: Visit the Carnegie Museum of Natural History in Pittsburgh, Pennsylvania where the Hoplosuchus kayi from Dinosaur National Monument is on display or the Quarry Exhibit Hall at Dinosaur National Monument where a cast will be on display.
Last updated: February 24, 2015