Be A Junior Ranger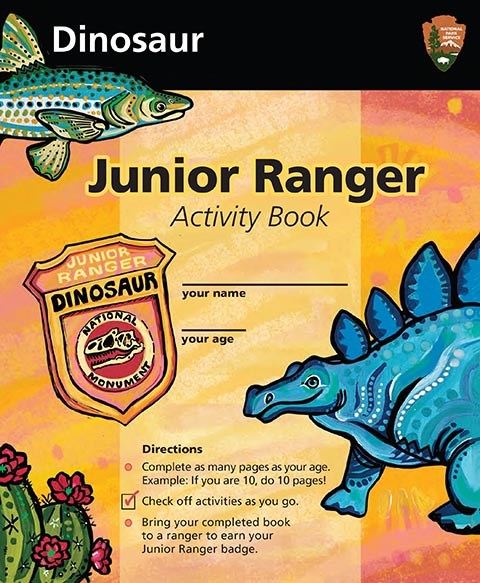 What is a Junior Ranger?
Junior Rangers help to "Explore, Learn, and Protect" our national parks. Anyone can be a Junior Ranger! Once you learn about the monument and the amazing resources found here, you will be able to share your knowledge with friends and family! Junior Rangers are representatives to tell others why Dinosaur National Monument is a special place and how to protect it for the future. You'll receive a badge to remind you of your important role in the National Park Service.
How Do I Become a Dinosaur Junior Ranger?
Junior Rangers need to complete an Activity Book to earn their badge. Just complete as many pages as your age - for example, if you're 10 years old, then you do 10 pages! Booklets are available from the Canyon Visitor Center, Quarry Visitor Center or Quarry Exhibit Hall. When you are finished with the booklet, bring it to any of these visitor centers to talk with a park ranger and receive your badge! You can also download the book and email us a picture of it. Then we will mail you a badge!

Click here to download a copy of our Junior Ranger Activity Book.
Junior Ranger Programs
During the summer, rangers offer a daily ranger program for children and their parents. Programs feature a variety of activities, and more information on our current programs can be found here.


Last updated: June 24, 2020