Bike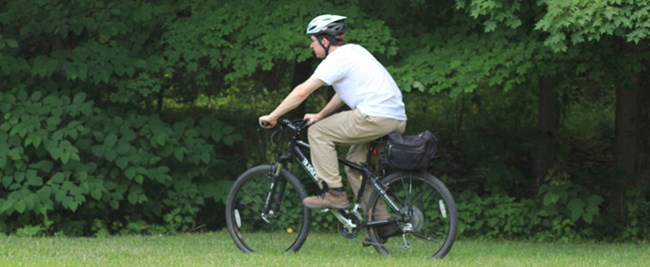 Cycling is a popular form of recreation in the park. The McDade Recreational Trail, a packed gravel path, parallels the Delaware River on the Pennsylvania side of the park for 32 miles and most is perfect for mountain and hybrid bikes (closed to biking between White Pines and Pittman Orchard trailheads). Motorized vehicles are not permitted on the McDade Recreational Trail. Visit the McDade Recreational Trail page for detailed trail information.
For those who enjoy road biking, Old Mine Road parallels the Delaware River on the New Jersey side for 34 miles in the park. Visit the Scenic Drive page for detailed information about this route.
Road biking on US 209 in Pennsylvania is not recommended due to heavy traffic. Road biking on River Road in Pennsylvania is strongly discouraged due to sharp, steep turns, blind curves, and the lack of shoulders.

Bike Rentals/Tours
Edge of the Woods Outdoor Outfitters
110 Main Street
Delaware Water Gap, PA 18327
570-421-6681
Shawnee River Trips
at the Shawnee Inn
100 Shawnee Inn Drive
Shawnee on Delaware, PA 18356
800-742-9633 or 570-424-4000
Last updated: July 29, 2021