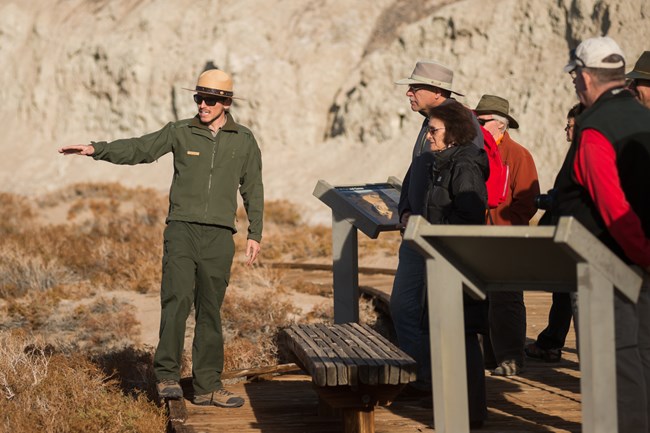 Park Rangers can introduce you to a new canyon, explore the night sky with you, guide you across the moonlit sand dunes, take you back in time... or just answer your questions!
Each program meets at the specified location daily. Expanded weekend programs including night sky events and evening programs are offered most Thursday-Sundays. For a complete list of activities, stop at the Furnace Creek Visitor Center or speak to a ranger. Schedules may change for special events, park staffing, emergencies, or be cancelled due to inclement weather.

Program Descriptions:
Daily Programs are offered December - March- please check the
calendar
for scheduled dates.
9:00 am Golden Canyon Walk
Hike with a ranger at Golden Canyon.
Meet at the Golden Canyon parking area.
30-45 minutes
10:00 am Mesquite Flat Dunes Ranger Talk
Find out about the Mesquite Flat Sand Dunes!
Meet at the Mesquite Flat Sand Dunes.
30-45 minutes.
11:00 am Badwater Ranger Talk


Explore the extremes of Death Valley below sea level!
Meet at the Badwater parking area.
30-45 minutes
2:30 pm Harmony Borax Works Ranger Talk
Learn about borax and mining history.
Meet at the Harmony Borax Works parking area.
30-45 minutes
.