Things To Know Before You Come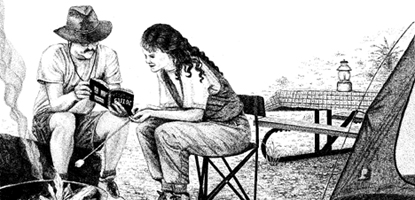 Accessibility
Death Valley's visitor centers, contact stations, and museums are accessible to all visitors.
The campgrounds with the exceptions of Texas Spring and the outlying campgrounds at Wildrose, Thorndike, and Mahogany Flat all have accessible sites.
The grounds at Scotty's Castle are accessible to all visitors. A wheelchair lift may be available to guests touring Scotty's Castle. The lift can only be used by one visitor per tour and use is limited by weight and size of wheelchair. Please notify the ranger selling tickets if you will need to use the lift.
Campfires
Campfires are allowed only in firepits provided in developed campgrounds. They are prohibited elsewhere in the park. Gathering firewood is unlawful.
Emergency Phones
Telephones are located at all of the park communities, resorts, contact stations, and museums. In an emergency, dial 911. Cell phones do not work in Death Valley! Do not depend on a cell phone for your safety.
Firearms & Weapons
Hunting and use of weapons in the park is illegal.
As of February 22, 2010, a new federal law allows people who can legally possess firearms under applicable federal, state, and local laws, to legally possess firearms in this park. It is the responsibility of visitors to understand and comply with all applicable state, local, and federal firearms laws before entering this park. As a starting point, please visit our two states' websites (California and Nevada.) Federal law also prohibits firearms in certain facilities in this park; those places are marked with signs at all public entrances.
Other weapons including air guns, bow and arrows, slingshots must be rendered temporarily inoperable or are packed, cased or stored in a manner that will prevent their ready use. These weapons will be kept out of sight insofar as is reasonably practical.
Fuel
It is always a good idea to keep a full tank in your vehicle as distances are great and fuel is available in the park only at Furnace Creek Ranch, Stovepipe Wells Village, and Panamint Springs Resort. Diesel and propane may purchased at Furnace Creek Ranch.
Safety
With basic precautions and planning, your visit to Death Valley is no more dangerous than to any other national park. Keep well hydrated. Bring ample water in your vehicle and while hiking. Avoid activity in the hottest part of the day or in the low elevations during the hot seasons. Be alert for rattlesnakes and do not approach any wild animal. While driving, keep your speed down. The number one cause of death in Death Valley is single-car rollovers.
Groceries
Limited groceries may be purchased in the park at the Furnace Creek Ranch General Store. Panamint Springs Resort and Stovepipe Wells have convenience stores. Outside the park you may buy basics in the communities of Beatty, NV and Shoshone, CA. The nearest supermarket is in Pahrump, NV.
Keep Wildlife Wild
Feeding coyotes, ravens, road runners and other wild animals is strictly illegal and is very destructive to them and to their wild nature. Do not feed them.
Leave No Trace
With nearly a million visitors in Death Valley each year, each of us must do our part to make as little impact as possible.
Off-road Driving
Vehicles, including bicycles, are restricted to established open roads. No off-road driving is allowed. There are 785 miles of paved, high-clearance and 4X4 roads in the park, and they are open to all licensed vehicles. ATVs and California "Green Sticker" vehicles may not be used in the park.
Pets
While pets are allowed in the park, their activities are restricted. All pets must be on a leash at all times and cannot be more than 100 feet from a road, picnic area, or campground; they are prohibited from trails, and they must never be left unattended-not even in a vehicle.
Potable Water
Water is available at all park communities, visitor centers, contact stations and museums. It is available at most campgrounds with some exceptions. See the campground page for more information.
Rules & Regulations
You are responsible for knowing and obeying park rules. When in doubt, ask a ranger. There is bound to be one around somewhere.
Take Only Pictures
Nearly one million people visit Death Valley National Park each year. If each visitor took only one rock or one wildflower, the park, our national treasure, would be denuded. Removal, disturbance, destruction, or disfigurement of anything in the park is a crime, and for good reason.
When to Visit
Death Valley National Park is usually considered a winter park, but it is possible to visit here all year. When is the best time to visit? It all depends on what you're looking for. Go to this page to learn more.


Last updated: December 30, 2015