Ranger Programs and Guided Tours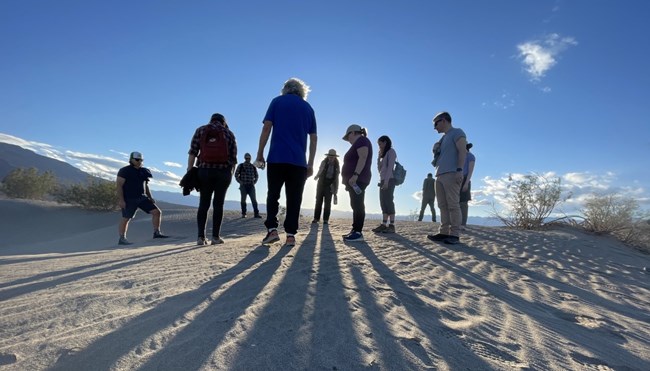 Ranger-led Programs
Park rangers have created a variety of talks and walks to help you better understand and explore the wonders of Death Valley National Park.
Daily programs are offered December - March. Please check the calendar or posted flier at Furnace Creek Visitor Center for scheduled dates, including special events and programs. Schedules are available approximately one week in advance but are subject to change/cancellation based on emergencies, inclement weather and park staffing.
Program Descriptions:
Badwater Ranger Talk
Explore the extremes of Death Valley below sea level!
Location: Meet at the Badwater parking area
Duration: 30-45 minutes

Harmony Borax Works Ranger Walk
Learn about borax and mining history. Walk is an easy 1/3 mile on a paved path.
Location: Meet at the Harmony Borax Works parking area
Duration: 30-45 minutes

Golden Canyon Hike
Hike with a ranger at Golden Canyon. Easy walk approximately 1 mile. Bring sun protection, water and hiking shoes.
Location: Meet at the Golden Canyon parking area
Duration: 45 minutes - 1 hour

Dunes Sunset Walk
Join a ranger for a sunset stroll at Mesquite Flat Sand Dunes.
Location: Meet at the Mesquite Flat Sand Dunes parking lot
Duration: 1 hour

Night Sky Talk
Discover the wonders of Death Valley's incredible night sky with a park ranger.
Location: Harmony Borax Works
Duration: 45 minutes -1 hour
Optional items to bring: red light to protect night vision, binoculars, chair.
Note: arrive early to ensure parking and to allow your eyes to adjust to the darkness.

Flintknapping Demonstration
Watch a Death Valley volunteer demonstrate the art of flintknapping (creating tools from stone).
Location: Borax Museum at The Ranch at Death Valley
Duration: Walk-in any time during schedueled hours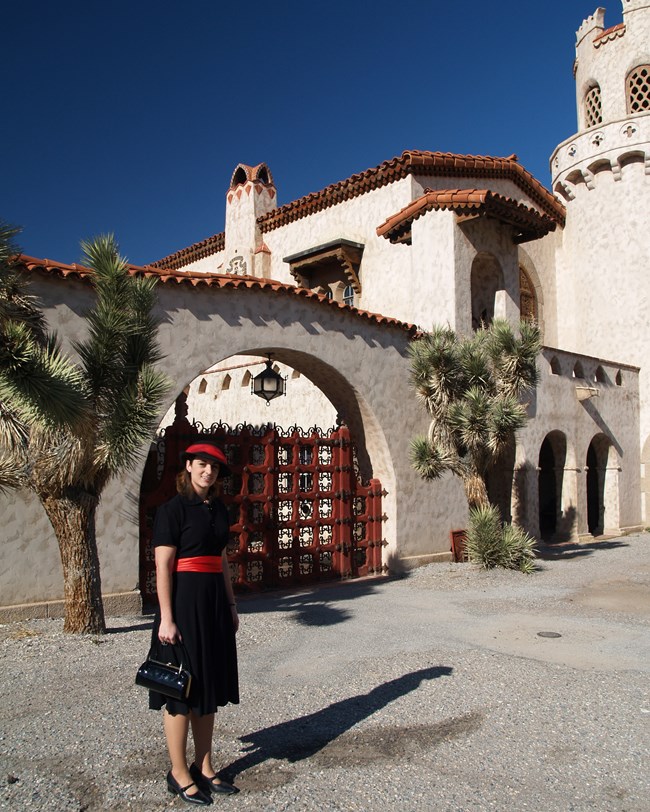 Scotty's Castle Tours
Scotty's Castle is CLOSED due to damage from a flood on Oct. 18, 2015 and will remain closed until further notice.

Flood Recovery Tours
Death Valley Natural History Association (DVNHA) and the National Park Service are pleased to offer walking tours of the Scotty's Castle Grounds. Come see first-hand how the power of water shapes the landscape of Death Valley. Participants will walk the grounds of Scotty's Castle with a ranger to learn about the damage sustained and the repairs in progress. Explore the stories of this unique place in the desert, the people who called it home, and the projects underway to reopen this unique historic district.
Tours are typically offered on Sundays from mid-December through mid-April. For more information, check out the DVNHA Scotty's Castle Flood Recovery Tours webpage.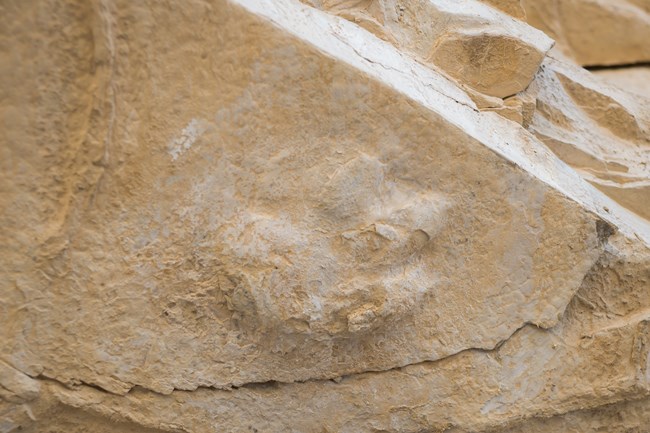 Paleontology Hikes
These ticketed ranger-led hikes occur on selected dates January-March and visit a remote part of the park, where participants will see the fossilized tracks of bird, camel, cat and mastodon-like creatures.

This is a moderately strenuous, seven-mile round trip hike with 1,500' of elevation gain over rugged, uneven terrain (no trail); it is not recommended for anyone with mobility or breathing difficulties and children must be at least 10 years old. To prepare, participants should regularly hike at least four miles on uneven terrain in the weeks leading up to the hike.

Each hike is limited to 12 people and will last most of the day. Reservations can be made online at Recreation.gov (1-877-444-6777) up to two weeks in advance. There is a $1/ticket reservation fee. Each individual can reserve up to 4 tickets. Donations to support the program are welcome and can be made through the Death Valley Natural History Association.

2023 hikes are over for the season. Check back in December for 2024 dates.
National Park Service App Tours
Want to go on a tour, but can't make a scheduled program or event? Download the free NPS App to enjoy a self-guided tour (both audio and text). Be sure to "Save Park for Offline Use," as cell service is poor in Death Valley. App tours include a Star Wars Film Locations driving tour a Park Highlights driving tour and a Golden Canyon hiking tour.
We offer a number of different programs based on age and cirriculum standards. Please contact the Education Manager if you are a teacher interested in bringing your class to Death Valley for a field trip.
Each spring, Death Valley National Park holds a multi-day Dark Sky Festival, where the public can join scientists for free talks around the park and in the auditorium, visit hands-on booths at an Exploration Fair and view the cosmos through telescopes.
Last updated: April 2, 2023