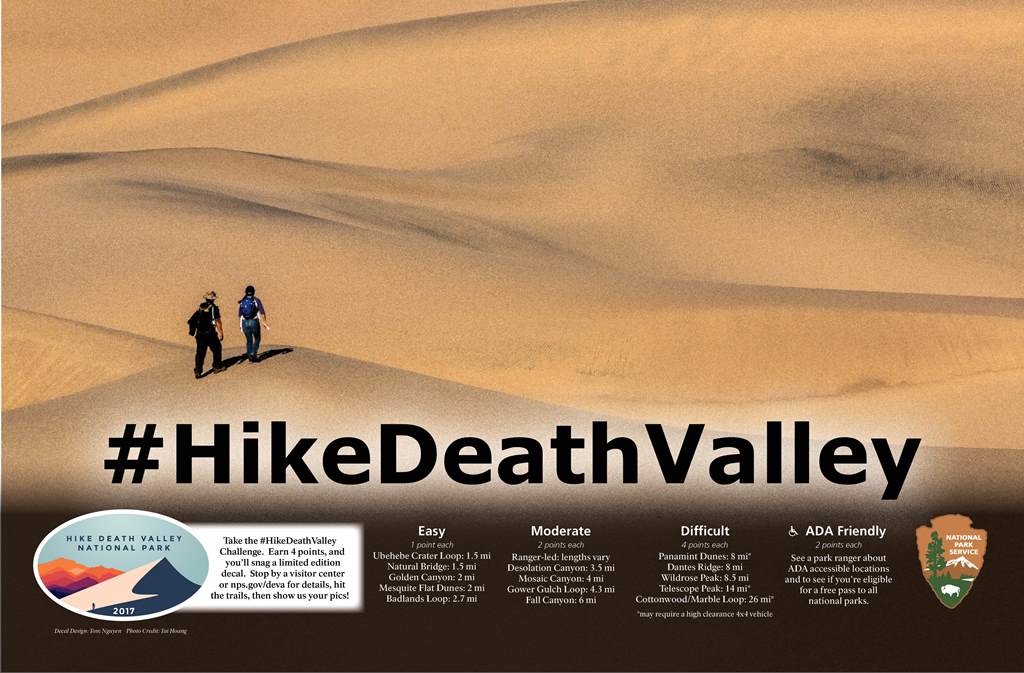 Earn your decal by completing 4 points worth of hikes this year!

Tag us in your pictures! Use the #HikeDeathValley for a chance to be featured on our Instagram, Twitter, and Facebook!

See the hike descriptions below.
Hike Death Valley Art Contest
Have great pictures or art of Death Valley? You are invited to participate in Death Valley National Park's annual Hike Death Valley Art Contest! Winning entries will be featured on the 2018 #HikeDeathValley promotional poster and collectable decal.

Two categories of artwork are included in the contest—a decal design and a promotional poster design.

Rules for entries:
All entries must be digital, labeled #HikeDeathValleyArt, and may be submitted through Instagram, Facebook, Twitter using the hashtag. Please make sure your post's privacy settings allow public view, or we may not be able to see your submission. You can also email the submission to deva_information@nps.gov with the subject line titled #HikeDeathValleyArt.
Deadline: Entries must be received by July 31, 2017.
Format: Format must be JPEG, PNG or TIF. No watermarks or private logos will be accepted, however your winning entry will be credited to you. Decal designs must include the year (2018) and the words, "Hike Death Valley". The ideal decal size is no larger than 4" x 4". See example below. The ideal poster size (printed) is no larger than 36" x 24". You may submit posters with or without the #HikeDeathValley banner.
Content: Artwork must be of Death Valley National Park. Entries will be judged on their ability to promote a sense of exploration and wilderness, adventure, as well as demonstrating the beauty of Death Valley. Artwork portraying hikers, wildlife, flora, or simply scenic vistas are just some examples of what a potentially winning design could include. Former entries can be resubmitted; former winning entries will not be selected again.
Release Form: Rangers will review entries and select a winner by consensus. Potential winners will be contacted prior to public announcement. All winners will be required to complete a Photo Release Form. Winners under the age of 18 must have a parent or legal guardian complete and sign the Photo Release Form on their behalf. Please do not submit a release form with your entry. A ranger will contact you if the release form is needed.
Resource Protection: Any entry portraying visitors engaged in illegal activities, including picking plants, harassing wildlife, or photos taken from drones will be disqualified.
Safety: As a reminder to all artists, the extreme heat, wildlife, remoteness, and terrain of Death Valley can create unique challenges and safety concerns. Exercise caution during the hottest times of the year and always hike with ample water and sun protection.