Scotty's Castle - Continues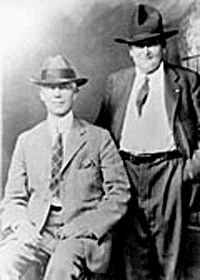 Scotty's remaining investor was Chicago insurance magnate Albert Mussey Johnson. The two men struck quite a contrast to one another when they met soon after the turn of the century. Mr. Johnson was a well respected and religious man, whereas Scotty was a rowdy and shady character.
Convinced to invest in Scotty's mine, Mr. Johnson gave thousands of dollars to Scotty over the next several years. Unfortunately, at least according to Scotty, a number of calamities prevented delivery of the gold. Undaunted, Mr. Johnson finally decided to take a look at the gold mine on a personal tour of Death Valley.
Scotty remained cool. Using his Grapevine Canyon home as base camp, Scotty took Mr. Johnson on a grueling trek by horseback through Death Valley. He figured a few days in the desert would be too much for the city slicker whose health had been permanently impaired by a near-fatal train accident in his youth. Surprisingly, Johnson loved Death Valley so much that he stayed nearly a month, and his health improved dramatically in the dry, sunny climate.
Although he never saw Scotty's mine and was most certainly being swindled, Mr. Johnson did not seem to mind. He had found riches in the desert far greater than those that glitter. Besides, he had taken a liking to the eccentric desert rat. The two men began a lifelong friendship that would change the history of Death Valley forever.


Last updated: February 28, 2015