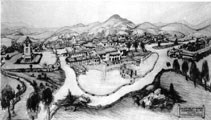 Over the next ten winters, Albert Johnson often returned to Death Valley. His wife, Bessie Penniman Johnson, began to accompany him and Scotty on their desert expeditions. Mrs. Johnson suggested that they build something more comfortable for their vacations, so as to "get away from the rattlesnakes and scorpions." This idea led to the construction of the Death Valley Ranch in the 1920's
Early construction consisted of only box-like structures, which at the time were better than the canvas tents that Mrs. Johnson had been staying in. Later, after the concept plan was decided on, Death Valley Ranch began to take on some of its Spanish-Mediterranean design features.
Recognizing a good story, Scotty told everyone that he was building the two million dollar home with profits from his gold mine. When questioned by the droves of reporters who visited, Mr. Johnson agreed that Scotty owned the place, and simply said that he was "Scotty's banker." Construction was halted in 1931 when Mr. Johnson discovered that due to a surveying error, he was building his castle on federal land. The Great Depression was beginning to take hold and construction on the Castle was never restarted. Today the Castle remains as Albert left it - incomplete.