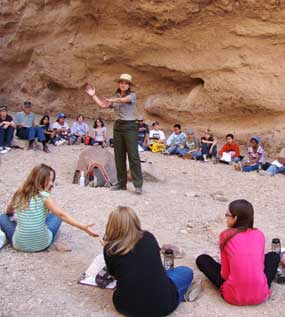 We offer a variety of environmental education programs aligned to California and Nevada state standards at many different park locations. Both formal education groups (schools), and informal youth groups (Scouts, 4H, Boys & Girls clubs, church groups, etc.) with 10 or more students are invited to participate. Contact the Education Specialist to schedule a program for your group.
You can select programs from the list below, or speak to the Education Specialist about a custom program, especially if you are interested in a longer hike. The times listed are approximate, and account for the duration of the field experience on-site. Estimations do not include travel time from Furnace Creek, or other camping/lodging sites in the park, so plan accordingly. Program level will be adjusted according to the ages of the children present. Programs are scheduled based on staff availability.
Ask about our service-learning and citizen-science programs!
---
DAY PROGRAMS
Skulls, Scat, Tracks, Fur & Fun
Location: Your Campsite
Time: 1 hour Grades: K – 5th
Group size: Up to 24
Description: Did an animal visit my campsite? Answer this question and more through hands-on exploration activities for younger children. Learn about Death Valley's herbivores, omnivores and carnivores by observing their skulls, scat, and tracks. You can't pet a live wild animal in the park, but you can feel their fur when you participate in this program.
Subjects: Biology
Dune Detectives
Location: Mesquite Flat Sand Dunes near Stovepipe Wells
Time: 1.5 hours
Grades: 4th – 10th
Group size: Up to 60
Description: Geology and biology come together in this inquiry-based ecology experience. Discern the origin of sand dunes, and literally follow in the footsteps of the creatures that call this extreme environment home. After solving some scientific mysteries, frolic in the dunes, roll down a hill, or bury yourself in sand. In the springtime, help the park battle against invasive species by leading your own eradication campaign!
Subjects: Geology, Biology, Ecology, Language Arts, Service Learning
Salts, Faults, & Alluvial Fans
Location: Badwater
Time: 1.5 – 2 hours
Grades: 4th – 10th
Group size: Up to 60
Description: By what tectonic forces can the land sink below the level of the sea? What evidence do we see of a dynamic earth? And why is there salt on the ground? Get a taste of big-picture Basin and Range geology at the world-famous lowest spot in North America.
Subjects: Geology, Visual Arts
Ancient Environments
Location: Golden Canyon trail
Time: 1.5 – 2 hours
Grades: 4th – 10th
Group size: Up to 60
Description: Over geologic time, dramatic changes in landscape and climate are the norm. In this activity, your students will learn to "read the rocks" and listen to the stories they tell of ancient environments. Compare these gradual changes to the rapid-fire climate change of today.
Subjects: Geology, Language Arts, Visual Arts, Physical Education
Into the Crater
Location: Ubehebe Crater
Time: 2 hours
Grades: 5th – 10th
Group size: Up to 60
Description: What made Ubehebe Crater? Was it a meteorite, a nuclear explosion, a volcano? Hike into the heart of this curious landform to gather clues and solve the mystery, then kinesthetically re-enact the event.
Subjects: Geology, Physical Education
Death Valley FISHES
(Fishery Investigations for Students through Hands-on Environmental Science)
Location: Salt Creek
Time: 3 hours
Grades: 5th – 12th
Group size: Up to 32
Description: Fish in the desert? It sounds impossible, but the Salt Creek pupfish are hearty survivors, descendants of Ice Age lake-dwelling ancestors. Collect real long-term monitoring data for the National Park, while getting your hands wet handling fish. Explore the aquatic ecology of the stream by placing leaf packs to capture invertebrates, then analyze them back in your classroom three weeks later, entering the data in an online national citizen-science database.
Subjects: Biology, Ecology, Math, Physical Science, Language Arts, Visual Arts, Service Learning
Scotty's Castle Education Tours
(choose history or science focus)
Location: Scotty's Castle
Time: 1 hour per tour, 30 minutes for additional science activity
Grades: 4th – 12th
Group size: Up to 19 per tour
Description: Tour this famous mansion in the desert. Choose the history tour to learn about Walter Scott, Albert and Bessie Johnson, and their adventures, both real and mythical, in the wild west. On this tour, explore the lower and upper levels of the house. Choose the science tour for a behind-the-scenes look at the technology that drove the castle. See how sun, water, and rocks drew Scotty, Albert, and Bessie to the desert, and allowed them to live there. On this tour, check out the lower level of the house, then descend into the basement.
Subjects: History, Physical Science, Visual Arts
Note: Availability of science tours may be limited. Scheduling free educational tours of Scotty's Castle requires an additional fee waiver form, which will only be granted after a general educational fee waiver has been obtained, and only if the purpose of the field trip includes curriculum related to the resources present at Scotty's Castle.
---