Lesson Plan
Devils Tower: America's First National Monument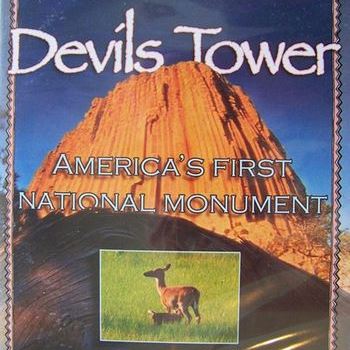 Grade Level:

Upper Elementary: Third Grade through Fifth Grade

Subject:

Literacy and Language Arts,Science,Social Studies

Lesson Duration:

90 Minutes

Common Core Standards:

3.L.1, 3.L.2, 3.L.3, 4.L.1, 4.L.2, 4.L.3, 4.L.4, 4.L.6, 5.L.1, 5.L.2, 5.L.3, 5.L.4, 5.L.5, 5.L.6

Thinking Skills:

Remembering: Recalling or recognizing information ideas, and principles. Understanding: Understand the main idea of material heard, viewed, or read. Interpret or summarize the ideas in own words.
Objective
Students will watch an educational video about Devils Tower National Monument. At the end they will be able to identify at least two reasons why the park is special.
Background
Devils Tower National Monument was designated in 1906 as America's first national monument. The ~1300 acre park protects not only the impressive Tower formation, but an array of habitats and living organisms. The park partner, Devils Tower Natural History Association, produced an educational DVD that can help introduce your students to the park and its resources.
Preparation
Watch the movie before showing it to your students. Take note of specific topics or moments you would like to highlight for your students. Review the worksheet to familiarize yourself with the questions which your students will need to answer. Print out copies of the "What Makes Devils Tower Special" worksheet - this can be completed as a class, in groups or individually.
Lesson Hook/Preview
The park has copies of this DVD to loan to teachers. You can contact the education staff to request a copy of the DVD by email or phone:
DETO_Education_Coordinator@nps.gov
307.467.5283 x637
Procedure
#1: Tell your students they are going to learn about a place called "Devils Tower," and ask what they already know about this place.
#2: Explain that Devils Tower is managed by the National Park Service; question your students about what the park service is and what it does.
#3: Share with your students that Devils Tower is a national monument, a special type of national park; it is actually America's first national monument, and is special for this and many other reasons.
#4: Show the DVD, "Devils Tower: America's First National Monument," telling students that they are to focus on the things that make Devils Tower special.
#5: After watching the movie, give your students the worksheet "What Makes Devils Tower Special." After completing the worksheet, allow students to discuss or present their ideas on what makes the Tower special.
Assessment Materials
What Makes Devils Tower Special?
This document includes ten questions about the video, and a second page with critical thinking and discussion questions for older students.
Assessment for "What Makes Devils Tower Special" activity.
Rubric/Answer Key
What Makes Devils Tower Special?
The answers to the assessment are found here. Basic answers/guidelines are supplied for the critical thinking and discussion questions.
Answer Key for "What Makes Devils Tower Special" activity
Contact Information
Last updated: November 20, 2017