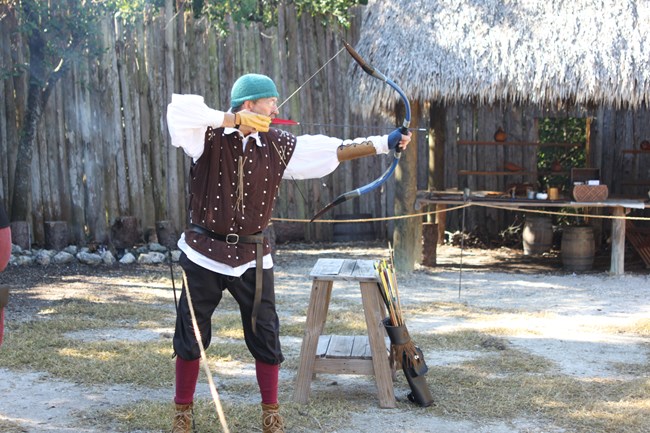 De Soto National Memorial
2017/2018 Events Calendar
Camp Uzita Living History: December 1st through April 13th from 10am-3pm Thurs-Sunday
Visitors get a unique look into Spanish and American Indian life in the 16th Century. Park staff offer talks and demonstrations on the lasting impact De Soto would have on the history of America and its native people. Programs run at the top of every hour.
Movie on the Mall: January 5th and February 16th time: TBD
Park visitors are treated to an outdoor, family friendly movie on the lawn. Movies TBD. Bring your own lawn chair and blanket and enjoy the show!
Ranger Led Kayak Tours: Signup begins April 1st and tours begin May 11th - Oct. 28th 9am- 12pm Fri, Sat & Sun.
Free ranger led kayak tours! We provide kayaks, gear, and safety equipment. Tours are limited to ten visitors per trip. Inquire in the visitor center for details and signup.
Dog Days at De Soto: March 10th time TBD
Hosted by the Friends of De Soto, this popular dog event is back! Join us for a day filled with activities, demonstrations and fun! Deso_interpretive_staff@nps.gov
Five Centuries of Florida History Weekend: March 24th and 25th from 10:00am-3:00pm
Come experience 500 years of history. Over 30 re-enactors portraying men and women from Florida's extensive history. All time periods set up camps and displays with talks and demonstrations throughout the weekend.
De Soto Landing: April 14th 10:00am and 1:00pm
Be here as conquistador Hernando De Soto comes ashore and claims Florida. Stay all day as we provide talks and demonstrations about De Soto's expedition and its lasting impact on early American history, and the native people of the Southeast.
Cinco de BioBlitz: May 5th time TBD
We are excited to announce our first BioBlitz event! Join us and become a scientist to help discover what lives in your park!
Jr. Ranger Summer Camp: May 29th- June 1st (Sarasota County) and June 12th-15th (Manatee County) times TBD
Junior Ranger Summer Camp is an educational and fun way for your kids to learn about Florida's history and experience the outdoors.
Join in on all the Excitement, Volunteer!
Did you ever want to participate in one of the many great and exciting events that De Soto National Memorial holds? Contact us and sign up today! Call 941-792-0458 ext. 108.
De Soto Ranchero Fishing Clinics: 11/24, 12/27,1/3, 3/26-28, 9am-1pm
We are now offering free half day fishing classes for all ages! Learn everything needed to start this new hobby that has been taking place in the park for hundreds of years.

Park entrance, events, and activities are free. For more information please contact De Soto National Memorial at (941) 792-0458, or e-mail us
For on the spot news and updates, please follow us on Facebook, Instagram, and Twitter. Search for De Soto National Memorial.