Traveling Trunk
Streamflow River Study Trunk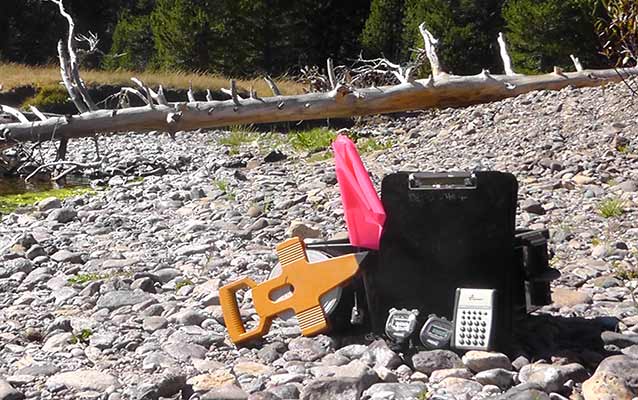 This kit is designed to provide you with the basic elements you'll need to successfully carry out a streamflow measurement with your class. The trunk provides the necessary materials for the Climate Science in Focus curriculum. Each kit contains:
1 Transect Tape
5 Pin Flags
2 Stopwatches
2 Calculators
5 Clipboards
1 Stream Flow Measurement Instructional Packet
1 Worksheet
1 DVD with curriculum and supplemental materials
You will need to provide 3-5 oranges and may want to consider rubber boots or alternate footwear for students that is suitable for getting wet. Footwear may be determined by the size of the creek, stream, or river, or by your area's climate.
Borrowing Instructions
These kits will be mailed to you free of charge.You will, however, be responsible for return postage. Kits should be reserved at least 30 days prior to when you will need them for the the lesson to allow adequate time for kit inspection and mailing. To reserve a stream flow measurement kit, email us or call 760-924-5505.
Details
Subject:

Climate, Climate Change, Earth Science, Hydrology, Mathematics

National/State Standards:

HS-ESS3-6
HS-LS2-6
HS-LS2-7
HS-LS4-6
HS-ESS3-5
HS-ESS2-2
HS-ESS2-4
HE-ESS3-1


Keywords:

river, stream, monitoring, measurement, flow, hydrology, water

type:

Traveling Trunk
Last updated: February 28, 2015