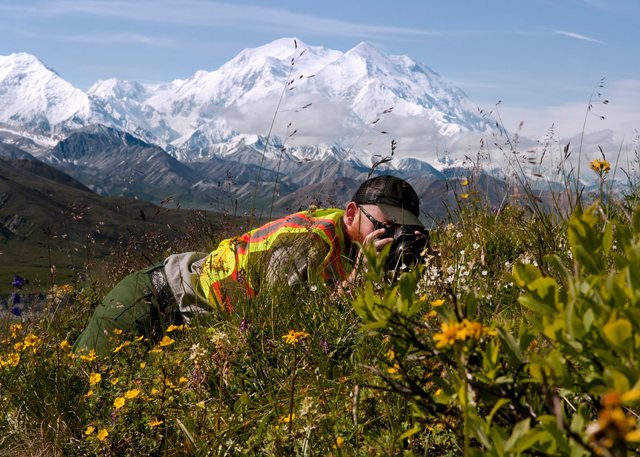 In 2011, Park Ranger Jake Frank photographed more than 115 species of wildflowers throughout the park.
"Taking pictures of flowers helps me to remember the names so that I can later share my knowledge with visitors," Jake said.
In 2012, Jake had a plan to take it to the next level. He wanted to see how many species of wildflowers he could find in a single season. His goal: 120 species.
"People are so surprised by the diversity of wildflowers in Denali. During peak wildflower season [early July], it's possible to see fifty or sixty species on a single hike. I wanted to showcase the diversity of Denali's wildflowers to everyone, even people who have never been here, using social media."
After ten weeks of exploring Denali's marshes, bogs, riverbeds, mountains, drainages, tundra, and taiga, he was able to identify 185 species, including a species (Gentianella tenella) never before seen on the north side of the Alaska Range. "Every week I just kept finding more and more. It even surprised me how many I ended up seeing." When asked if he will try and beat his record next year, he replied, "I think I want to try mushrooms next."
You can find all 185 images in the gallery below, as a set on Flickr or in a Facebook gallery.
You can also download the free "Wildflowers of Denali" poster inspired by Jake's 'Project Wildflower 2012.'