Virtual Tours
Virtual Tours: Science and Research in Denali

Explore some of the research happening in Denali, paired with striking images of plants and landscapes in the park.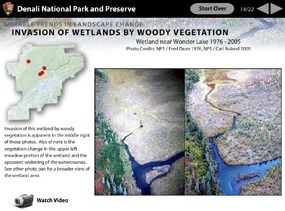 Virtual Tour of Landscape Change in Denali
(2.4 MB SWF download)



Denali is a dynamic and ever-changing place. Careful examination of paired historic and recent photographs by park staff has revealed dramatic and widespread landscape changes in and around Denali National Park and Preserve.

Paired photographs are extremely valuable because they allow for a self-paced visual comparison of landscape characters otherwise difficult to observe. This eResource features over 30 repeat photo pairs and provides context for what the changes depicted may mean for the future of Denali National Park.

Last updated: July 18, 2018