Maurice Morino, entrepreneur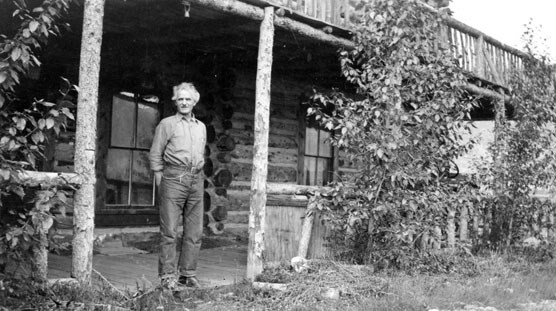 No person dominated life in McKinley Station more than hotel proprietor Maurice Morino. One woman described the blue-eyed, gray-haired pioneer as "very handsome." Another said that, "even in his rough clothes, he had a courtly manner and bearing." Morino sang Italian arias in "a beautiful, cultured voice all day long."
Men were less impressed. "A rough customer," one said. "He always walked straight as an arrow and gave orders like an officer, even to patrons," said a railroader. He was no saint. During Prohibition, U.S. Marshals twice caught him selling homebrew and hauled him off to court.
Born in 1870, in Bosaio, Italy, Morino joined the French Foreign Legion as a young man. He later immigrated to the United States from Liverpool, England. In 1900, he contracted "gold fever" and stampeded north to Nome. By 1914, following years of dreams, hard work, and bankruptcy, Morino built what he called a "miner's cabin" on the bank of Riley Creek. Twenty-three years later, following his death from cancer in Everett, Washington on March 6, 1937, his remains were returned to McKinley Station and buried on the bluff overlooking his homestead.
In life, Morino was remembered as a habitual builder, an inscrutable businessman, and a notorious cook. Dressed in "hip boots and parka," he worked in his kitchen night and day. Both the road commission and the railroad contracted with him to feed their workers, but he often skimped on meals. He regularly served "Hunter Steak," a euphemism for sheep and caribou meat.
Morino cooked on a big range with a wire drying rack stretched over it. Guests sometimes hung their socks over the stove to dry. One road worker saw Morino, who was cooking pancakes on the griddle, grab a sock and wipe the stove down with it before pouring another batch of batter. His coffee pot, a five-gallon can, was continually on the stove.
"Each day he merely poured in more grounds and then egg shells to settle the grounds," one visitor recalled, "and when the pot filled up, he threw out the contents, and then started all over again."

RETURN TO TRAIL
Mount McKinley Park Hotel

Last updated: April 14, 2015