Pioneer Scientists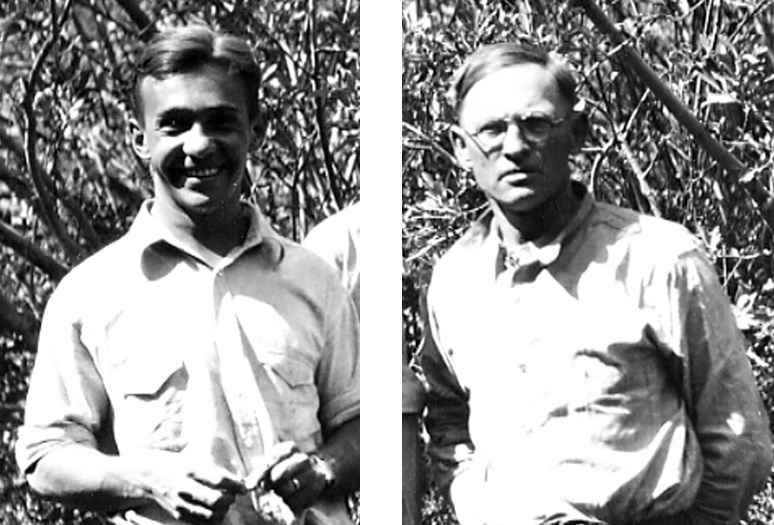 One spring day in 1926, two unusual men stepped down from the train. In their dark, woolen suits and ties, they didn't look much different than the average tourist who stopped at McKinley Station, but as workers unloaded their supplies, onlookers quickly realized these two were different. Instead of suitcases they had rolled canvas tents, sleeping bags, well-used camping gear, gun cases, and a few boxes marked "Scientific Supplies. Do Not Drop."
The two arrivals, Joseph S. Dixon of the University of California, Berkeley and his assistant, George M. Wright, had come north to conduct a study of park wildlife. Recognizing the unique opportunity to study predator and prey relationships here, the National Park Service and the University of California, Berkeley, cooperatively funded Dixon's expedition.
Dixon and Wright left Berkeley on May 3, and arrived at McKinley Station two weeks later. Using the unfinished road alignment for access, they worked their way west to Wonder Lake. From mid-May through July, Dixon and Wright covered 500 miles on foot, identifying 86 species of birds and 25 mammals. They collected 168 bird and 83 mammal specimens.
Dixon would return in 1932 to complete his work and publish Birds and Mammals of Mount McKinley National Park, the first comprehensive volume of its kind. Two years later, Wright was appointed chief of the Wildlife Division of the National Park Service, a branch he helped establish and fund.
Independently wealthy, Wright financed the first comprehensive wildlife survey of America's national parks. His work would profoundly influence wildlife science, advocating science-based wildlife management as critical to the perpetuation of the nation's wildlife. During an epic, three-year tour of the national parks, he found that arbitrary park boundaries often excluded areas, especially winter ranges, critical to wildlife survival. He believed that park boundaries needed to conform to the needs of wildlife, rather than to neat lines drawn on maps.
Although these two men were among the first scientists to work in the park, they would not be the last. The shared traits of these pioneer conservationists. Perseverance, self-reliance, and a willingness to work hard, all coupled with superb outdoor skills, won the grudging admiration of some locals. Winning them to the side of conservation, and preservation of the park would remain a frustrating task.

RETURN TO TRAIL
Park Road and Early Entrance

Last updated: April 14, 2015