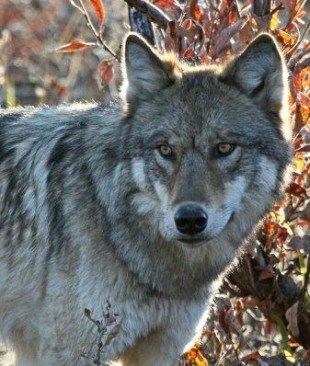 Wolves are an important resource in Denali mentioned in the park's enabling legislation.
The wolves that inhabit Denali face many natural factors such as weather and availability of prey that may affect their behavior, where they travel and have their dens, and their population size. Human-related factors, such as human development or legal trapping outside the park boundary, may also affect wolves inhabiting Denali. Harvest of wolves, particularly breeding animals, has the potential to decrease wolf numbers, influence social structure and reproduction, alter wolf behavior, and decrease opportunities for wolf viewing. Thus, even if harvest occurring outside of the park has little effect on larger-scale wolf population dynamics, it may still have significant effects on visitor experiences.

From 2000 until 2010, the State of Alaska prohibited wolf hunting and trapping in two areas bordering the park, the Stampede and Nenana Canyon Closed Areas, in order to protect two of the park's three most-commonly viewed wolf packs. At the spring 2010 meeting of the Alaska Board of Game, the National Park Service (NPS) submitted a proposal to extend the eastern boundary of the Stampede Closed Area. Instead, the Board of Game decided to eliminate both closed areas and allow hunting and trapping wolves in all areas bordering the park. Efforts to reinstate a buffer continue.

The number of wolves in Denali has ranged from approximately 60 to 100. However, the story of wolves in Denali is not just about the numbers (population size), but also about the ability of people to view them.

Learn more about how park biologists research wolves.