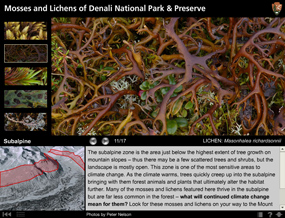 eResource: Mosses and Lichens of Denali
(13 MB swf download)

Mosses and lichens, although small, are a major component of Denali's plant life. They comprise about half of the diversity with over 800 species and provide many important ecological functions. They cover the ground in many areas of the park, from soggy wetlands to the rocky alpine.

This eResource introduces the viewer to what exactly mosses and lichens are, where they grow, and how they are used by animals and other plants. Explore the intricate beauty of these small organisms with over 30 close-up photographs, and then go outside to find them for yourself.