Sister Park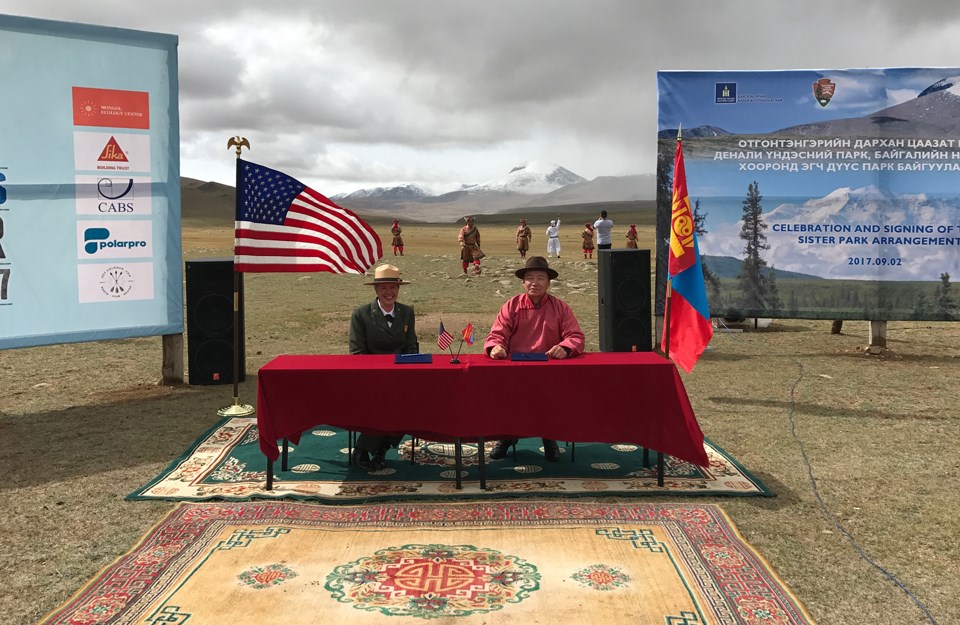 Otgontenger Strictly Protected Area
On August 25, 2017, Jennifer Zimdahl Galt, the U.S. Ambassador to Mongolia, and Dulamsuren Oyunkhorol, the Minister of Environment and Tourism of Mongolia, signed a Sister Park Arrangement between Denali National Park and Preserve and
Otgontenger Strictly Protected Area
in Zavkhan province, Mongolia.
Following that event was a signing of a Biennial Work Plan by Denali Deputy Superintendent Denice Swanke and Director D. Batdelger in the Otgontenger Strictly Protected Area. This Sister Park Arrangement demonstrates the committed partnership and friendship between the United States and Mongolia. The agreement commemorates the 30 year anniversary of United States-Mongolia diplomatic relations.
Swanke received an overview of the park's resources and management issues and discussed future cooperation on park management and conservation. In addition to the National Park Service, the effort received support from the U.S. Department of State and the Mongol Ecology Center, a Mongolia-based non-governmental organization.
The Sister Park Arrangement between Denali and Otgontenger promotes cooperation between the two parks through the exchange of professional and technical knowledge and through sharing lessons learned and best practices in the administration of both protected areas.
Through professional exchanges, training opportunities, and conferences, the agreement also facilitates information sharing on a variety of topics, including national park management, enriching visitor experiences, resource conservation, and collaboration with local organizations and communities.
Office of International Affairs
Sister Park Agreements are coordinated by
the Office of International Affairs
. The role of the Office of International Affairs is to serve the National Park Service by engaging more fully the talents and available resources of the Park Service for the implementation of its domestic and global missions. It evaluates opportunities and coordinates responses involving the National Park Service in international programs, projects and activities.
Last updated: November 21, 2018