Field Trips
By-Request Ranger Programs in Denali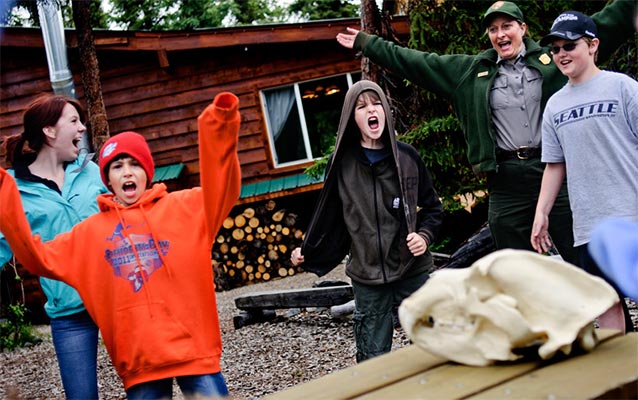 Description
All programs require pre-registration. To request a ranger program, please download and return this registration form. Ranger availability is not guaranteed. Sending in your request form early will increase the likelihood of a ranger being available on the day you plan to visit the park.

Please choose one or two of the programs listed below.

Hike with a Ranger
Grades K-12
60-120 minutes

Explore the subarctic in the company of a Denali park ranger. Differentiate between the chattering of a squirrel and a gray jay. Learn why our trees sometimes grow diagonally. Touch and smell mosses, spruce cones, and wildflowers. Ranger-led hikes for school groups take place on trails within walking distance of the Murie Science and Learning Center. Your ranger will help you choose the best trail for your group.

Denali Biomes and Habitats
Grades K-8
90-120 minutes

Taiga and tundra - what's the difference? Learn about the importance of these biomes on a global scale and how they form the backdrop to five wildlife habitats in Denali. Explore how and why Denali's hooved mammals live in different habitats within the park. Discover how plants both form the basis of animal habitats and need habitats of their own. Imagine how habitats still differ even when they're all blanketed in snow.

Mammals of Denali: Amazing Adaptations
Grades 2-5
90-120 minutes

What do a snowshoe hare, moose, marmot, and Arctic ground squirrel all have in common? Find out as we define and discover the amazing adaptations of Denali's mammals. Put your coat on, and journey through the seasons by 'trying out' unique traits that wildlife at this national park depend on.

Science and Research of the Subarctic
Grades 6-12
60-90 minutes

Six million acres of pristine wilderness is the science classroom that is Denali. Experience what it's like to conduct research as a wolf biologist, a geologist, and a cultural resources specialist in this premiere national park and natural lab. Explore essential questions, scientific methods, and peer reviews through the lens of wildlife, geology and archaeology research projects currently underway here in Denali.

Ask a Ranger
Grades K-12
30 minutes

Students prepare thoughtful questions ahead of time and spend a half hour with a ranger discussing Denali ecology, geology and human history.
Contact
Denali Education Team
(907) 683-2294
Details
Subject:

American Indian History and Culture, Biology: Animals, Biology: Plants, Climate, Climate Change, Conservation, Earth Science, Ecology, Environment, Geography, Health, History, Landscapes, Paleontology, Pioneer America, Recreation / Leisure / Tourism, Regional Studies, Science and Technology, Westward Expansion

Keywords:

environment, taiga, tundra, adaptation, alaska, subarctic, climate, habitat, biome, ranger hike, trails

type:

Field Trips