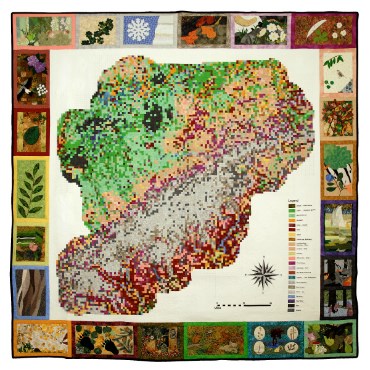 The eleven square foot (3.3 square meter) quilt hanging in Denali's Murie Science and Learning Center reveals a story of the park's landscape. Developed from a satellite image, the 13,600 cotton squares of the map tell tales of changing vegetation, receding glaciers, raging wildfires, and shifting habitats. The six million acres of the park are divided up into 23 land cover types, each represented by a designated color and border square around the edge of the quilt. It took 40 volunteers 1,100 hours of time over four years to complete the project.
The quilt now represents the extensive, varied landscape of the park from that moment in time. Even in the years since the photo was taken, an updated photo and quilt created today would look very different from the original. Because of this, the quilt represents a moment of the park's past and also makes implications about the future. What would a similar quilt look like in 50 years? How about 100?
Learn more about the different land cover types in Denali and what makes them unique.