Happy 100th Birthday Denali!

Denali is celebrating its 100th birthday throughout 2017!

We invite you to join in the celebration as well as connect with and protect the unique cultural and natural heritage found within Denali National Park and Preserve.
Birthday Events
All dates are 2017, unless indicated otherwise.

Denali Staff Reunion: September 1-3
If you've ever worked in Denali (park staff, inholders, bus drivers and concessions staff), you're invited to join us for a reunion on Labor Day weekend.

Denali's 100th Anniversary Celebration in Talkeetna: Summer
A community celebration of Denali's 100th Birthday in Talkeetna and the 20th Anniversary of the opening of the Walter Harper Talkeetna Ranger Station.

Road Lottery/Military Appreciation Day: September 15-19
An annual event, the 2017 Road Lottery and Military Appreciation Day will be a special time for participants to reflect on 100 years of Denali.
Head over to
our event calendar
to discover other events in the park, as well as community events outside of the park.
---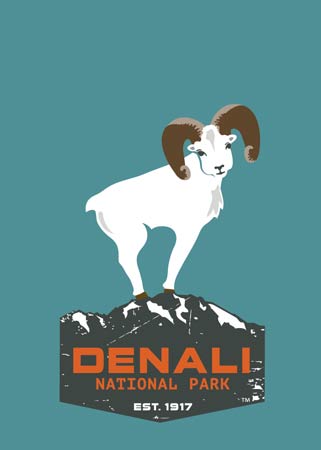 Denali's Birthday Logo
We invite everyone to help us celebrate by supporting our special events in 2017!
In honor of this historic milestone, Denali is unveiling a special birthday logo that highlights a century of preservation, protection and public use.
The logo's design pays homage to Denali's earliest beginnings when naturalist Charles Sheldon recognized the importance of protecting the Dall sheep and pushed for the creation of a park. Working with Harry Karstens, the man who would later become Denali's first park superintendent, Sheldon first visited the area in 1906 and realized it "would make an ideal park and game preserve" because of its beauty and diversity of wildlife.
The new, award-winning logo was created by the design studio of Mad Dog Graphx. It features one of the park's iconic sheep atop a mountain range as well as variations of the same. The logo recently won a 2016 American Graphic Design Award.
The logo is available in a variety of formats and usage must adhere to the standards manual approved by the park's centennial committee.
Denali's Birthday Logo is a trademark of Denali National Park and Preserve. A standards guide has been created that includes technical specifications that must be followed when using the birthday logo. For questions, clarifications or additional information,
email Denali's Birthday Coordinator
.
Downloads
---
Ongoing Ways to Celebrate

In addition to scheduled events listed above, there are several ways to celebrate Denali's 100th birthday. Whether you live near the park or far away, consider taking part in one of these ongoing activities!

Last updated: July 31, 2017
Ongoing Ways to Celebrate