Rod Weagant

Mount Eielson
My philosophy about painting is quite simple. I just stand before the world and report what I see and feel, so my paintings are not objects but a record of my attempts at understanding. The life of a painter is an eternal journey of discovery. I am constantly challenged and often discouraged - but never bored.
About "Mount Eielson" — I was returning from Kantishna at about 11PM when the low sun angle created striking shadow patterns on Mount Eielson. I made a quick oil study and from that developed the larger piece in the studio.
— Rod Weagant, 2005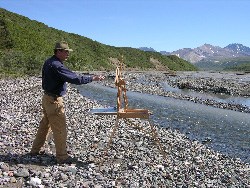 Rod Weagant is a plein air, or "on location" landscape painter, who has spent the last 25 years trying to communicate the wonder and emotions he feels when surrounded by the natural world. He travels the Yukon, Alaska and the western United States painting and conducting workshops. He has had over 30 one-man exhibitions and has participated in numerous group shows.
Last updated: March 29, 2017