Sandy Stolle

Kettle Ponds in the Pass
How can one convey something of the vastness of Denali National Park and Preserve, using wood as a medium of expression? With such a smorgasbord of jaw dropping vistas filled with rich arrays of varying textures and forms, it was difficult to select which idea to pursue. I brought a few panels of wood with me into the Park. The grain of this mahogany fit well with the flow of the land forms in the view looking east on Sable Pass. I was intrigued by the challenge to express the reflective jewels of the kettle ponds found there. What a delight it was to experience the many variances of the dramatic play of light that I saw on the few visits I made to this overlook.
— Sandy Stolle, 2006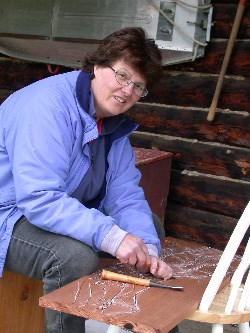 Sandy Stolle is a wood sculptor who lived in the bush of the Northwest Alaska for twelve years before relocating to the rainforest, mountains and waters of Seward a decade and a half ago. She gains inspiration from the power and beauty of Alaskan environments. Visit her website.
Last updated: March 29, 2017