Gail Niebrugge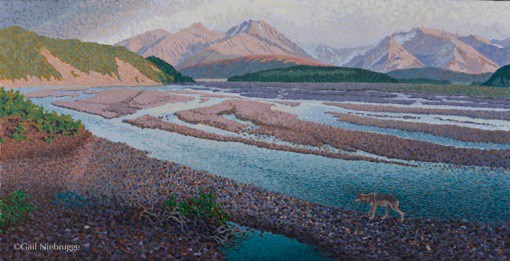 East Fork Wolf
When I paint it is intuitive, from the heart. I spend hours each day applying small dots of color one at a time with a tiny brush, and when I am finished I have a painting of something that reach my soul sometime during my life. My work is focused entirely on the contemporary landscape, wildlife, and flora of the wilderness regions of Alaska. With vast expanses of Alaska wilderness as my subject I've experienced extensive outdoor challenges, exploration, and adventure.
— Gail Niebrugge, 2009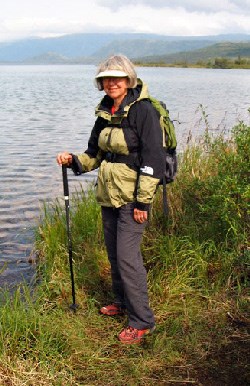 Alaska painter Gail Niebrugge is known throughout the world for her use of pointillism, small-dot like strokes, in her work. She has completed seven major public commissions in Alaska, including a ten-panel multi-dimensional artwork for the U.S. Customs in Skagway. She was the first artist-in-residence for Wrangell-St. Elias National Park and is the author of Gail Niebrugge's Alaska Wildflowers, a book about her thirty-three years of work focused entirely on Alaska. Visit her website.
Last updated: March 29, 2017