Linda Infante Lyons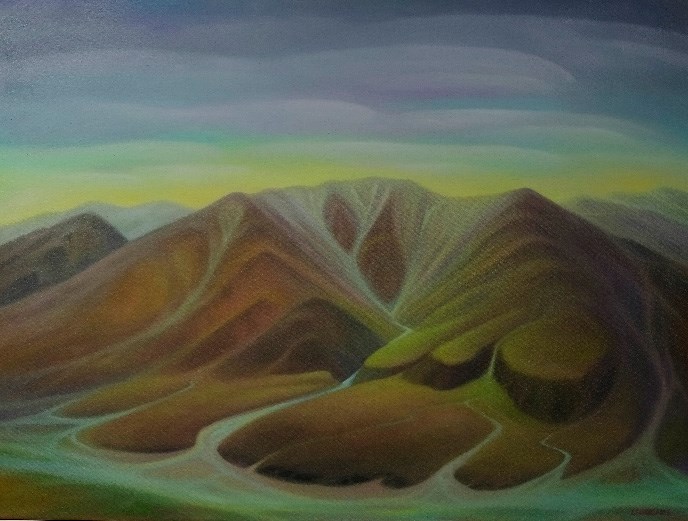 Denali, the Source
I was raised in Alaska during a time when children were allowed to explore outside unsupervised. Running on spongy tundra, catching tadpoles in bogs, we pulled down spindly spruce trees and rode them like horses in wild undeveloped land. I spent my summers on Kodiak Island, beachcombing, fishing and exploring uninhabited islands with my Alutiiq grandmother. The land was alive, vibrant and embracing. My Alutiiq ancestors were infinitely linked spiritually and emotionally to their land and waters and are a source and inspiration for my work.
My career as an artist is a continuation of this childhood exploration. Although my work is inspired by direct observation of the natural world, often sketching and taking photographs, it is through the fluid nature of paint that a more intuitive process takes place. On the canvas I let paint suggest landforms. My landscapes are created from memories and emotion. I balance color to achieve a sense of unity and simplify form to its most pure and essential. Through painting, I attempt to reveal the realm of the spiritual, exploring the connection to place, the elusive relationship to the land that came so naturally to my ancestors.
My 10-day artist residency in August of 2014 was a transformative experience. Denali Park and Preserve offers us rare opportunity to let go of self and to connect to something bigger. The vast open space invites us all to quiet our minds, slow down, open our eyes and truly see. I returned to my studio in Anchorage with a clear mind, inspired by the park's endless array of colors, landforms, river systems and geological formations. My painting, "Denali, the Source" was inspired by a hike up Thorofare and a long meditation of Mount Eielson and the glacial drainage below. Denali National Park and Preserve provides a glimpse of the source of life and for an artist, a chance to connect to the source of creativity.
— Linda Infante Lyons, 2014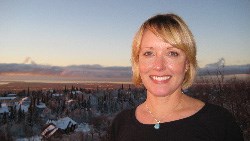 Linda Infante Lyons
earned a degree in Biology from Whitman College, Walla Walla, WA. and studied art at the Escuela de Bellas Artes in Vina del Mar, Chile. Her paintings are part of the Anchorage Museum at Rasmuson Center's Alaska Contemporary Artists collection and the Alaska State Council on the Art's Alaska Contemporary Art Bank. She has produced public art for the Anchorage 1% for Art program and was recently awarded the Rasmuson Foundation Artist Grant. She enjoys visiting remote Alaska villages with the Artist in Schools program, helping local children to create collaborative murals. Linda currently paints and teaches painting in her Mountain View studio in Anchorage, AK. Visit her
website
.
Last updated: February 2, 2018