Kirsten Furlong
Alaska Gold: Snowshoe Hare
My current artistic practice involves engaging with a series of questions about the geography of human/animal interactions as a way of contemplating various issues about the natural world. The time I spent at Denali National Park and Preserve as an artist in residence was an amazing environment for experiencing and observing my own and others attitudes and feelings about animals in the park (wilderness) versus those found in their everyday setting (urban, suburban). The images I create are influenced by representation of animals found in such diverse sources as historical scientific illustration to current popular culture. In the paintings and prints, animals serve as representations of nature and as metaphors for human desires that ultimately separate us from the natural world. While in Denali, I had the experience of being overwhelmed and in awe of the sheer scale of the landscape and of the large animals, such as bears and wolves, that I encountered. This led me to concentrate on creatures and plants of more diminutive size — such as the snowshoe hares, arctic ground squirrels, and many cryptogams (fungi, lichen, moss) that were abundant near the East Fork Cabin. The painting I created for the Denali collection places the snowshoe hare in iconic status on a silver and gold background to signify its importance in the ecology of the area and to allude to historical and contemporary human interests in the natural resources in the lands of Alaska.
— Kristen Furlong, 2010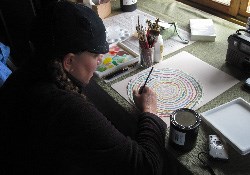 Kirsten Furlong is a mixed media artist often working in drawings, paintings, prints, and installations. Her work documents her experience of the intersection of nature and the ideologies that frame our cultural understanding of the natural world. She examines the relationships people have with wild and domestic animals and see her art as a diagram of these narratives. Kirsten is currently the gallery director of the Visual Arts Center at Boise State University. She is also an art department faculty member at Boise State teaching a variety of studio arts. Grants from the Idaho Commission on the Arts, the National Endowment for the Arts, and the Boise Weekly helped to fund the residency and the work that followed. Visit her website.
Last updated: March 29, 2017