Harlan W. Butt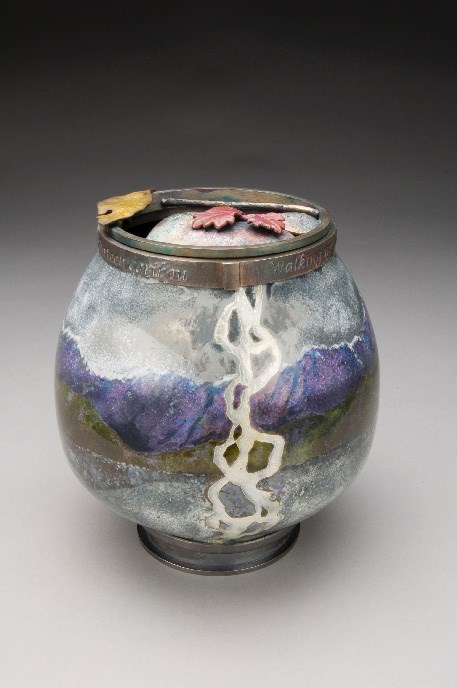 Denali Jar I
Haiku:
Thirteen caribou
Walking up East Fork River,
As silent as ghosts.
The imagery on the jar is of the mountain range south of East Fork Cabin and the silvery pattern of lines running vertically in cloisonné suggest the braided character of the rivers in Denali. On the top of the jar is a landscape of the earth at our feet, including simulations of nagoonberry and poplar leaves. The haiku, which circles the rim, describes an experience one morning outside the cabin.
The contemporary dialogue focusing on the environment and the global impact of human habitation on its health and diversity involves serious debate on several key issues. Conservation versus preservation of wilderness, capitalism as a sustainable system of economics on a planet of limited natural resources, anthropocentrism as a world view, as opposed to biocentrism, and accusations of environmentalism as a new form of Western imperialism. It is no longer as simple as appreciating the beauty of a willow or the majesty of a caribou.
— Harlan W. Butt, 2011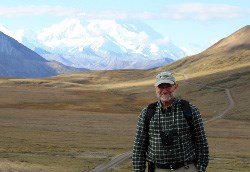 Harlan W. Butt is a metalsmith from Denton, Texas. Harlan's unique enamel and silver vessels are inspired by a love of nature and poetry. He is a Regents Professor of Art at the University of North Texas where he has taught since 1976. He is past President of the Enamelist Society and a Fellow of the American Crafts Council. His work has been exhibited in Australia, Canada, England, Germany, India, Japan, Korea, Russia and throughout the United States. He has spent time studying in Japan, including a year working in the studio of master metalsmith Shumei Tanaka and at the Biso Cloisonne Company, both in Kyoto. Visit his website.
Last updated: March 29, 2017