George-Ann Bowers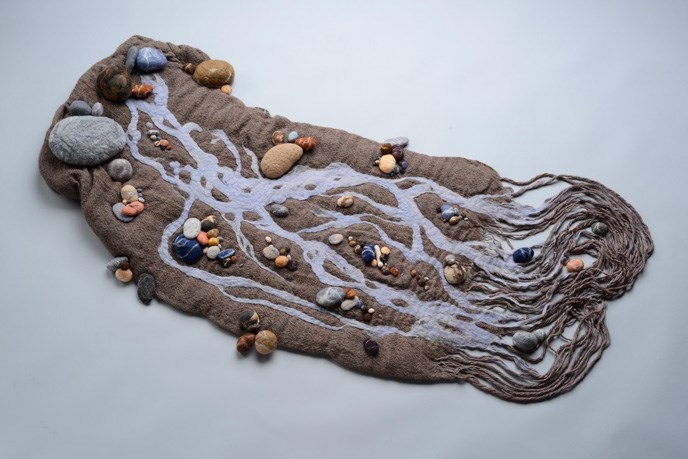 It's Complicated
One mildly rainy afternoon about halfway through my residency provided the spark of inspiration for my artistic response to the park. My partner and I wandered for hours on the riverbed above the bridge at Toklat Road Camp which provides a thrilling deposition of millions of rocks, seemingly all different in shape, color, size, patterning and arrangement, and particularly beautiful in the aggregate. During our visit, whenever we asked about geological composition and formation of the park's terrain, the initial response was often "it's complicated." The river itself had brought the evidence of complex geological history directly to our feet, and I knew I had found my subject matter.
My vision for a river-and-rock-focused artwork led me to choose a new process in conjunction with weaving. Felting lends itself delightfully to the creation of rocks on a smallish scale, and I have used that technique combined with a handwoven and partially felted substrate ("riverbed") to construct my paean to the geology and braided rivers of Denali.
— George-Ann Bowers, 2014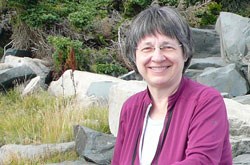 Nature and its seemingly chaotic beauty inspire Berkeley, CA textile artist
George-Ann Bowers
. Weaving complex layers of warp and weft, she captures nature's magical mix of color, texture, pattern and structure, and exhibits her work throughout the United States, as well as internationally. Her weavings have appeared in
Fiberarts
magazine, the
Surface Design Association Journal
, and the recently-published volume
Textiles: The Art of Mankind
by Mary Schoesser. She has completed residencies at Oregon's Crater Lake, Acadia National Park in Maine, and the Grand Canyon, and is excited to explore new territory around the 63rd parallel. Visit her
website
.
Last updated: March 29, 2017