Marianne Boruch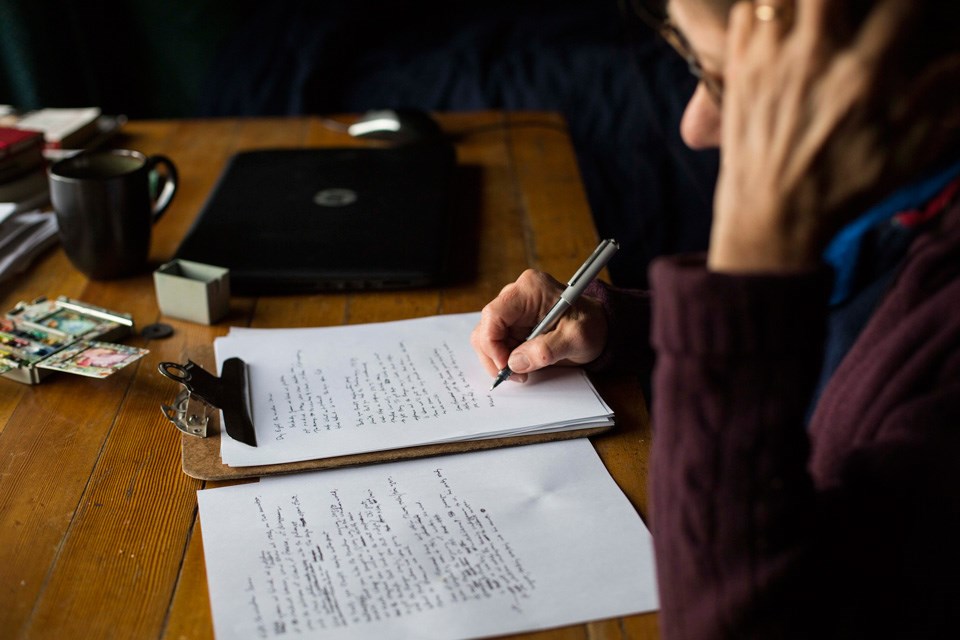 NOCTURNE
--for David
You Bach yourself or Schubert yourself,
light outside in the cabin dark, 11 pm, Denali
at treeline, the grizzlies still awake
finding berry unto berry, getting larger
for their trouble, enough to
doze all winter. But it's August! And you
Mozart yourself, our bed a concert hall
of one, that wire in your ear to
in time out of time as the moon—is there really
a moon this semi-night?—bestows itself
over mountain and tundra.
Bestows! Old word
growing older that finds us later
and late, dear listener
of worlds above river stream
and gravel bar, caribou to hare to crow,
the dot and dash of sheep up there, some
arctic squirrel curious, a miniature
time stop, little sentry of the Park Road
reeling up, back--wind
and scent and wolf. This dream to
keep hearing, hour unto hour
sleep, our simple shared
ageless, about to.
THINGS THAT KEEP ME AWAKE
-- Denali National Park, Alaska, August 2015


Early everything: cloud, rim of light
around cloud. You open,
you reinvent the scheme of
room and table. This cup of tea equals---
Patience is a word with
a window in it.


Or abrupt: I am not worthy the photographer
chanted yesterday to be funny,
opening his arms wide
at the turn-off near Stony Hill. Which is how
we strangers to each and all stood
longer in the vast cliff brown green blue--
no joke, no words for it.



* * *
Fireweed chronically alert
outside cabin #29 above the Toklat river.
Before names, before McKinley or Denali, either-or
this fireweed so sure of itself,
wily post-us, pre we-named-this-plant
because I'm loyal. No matter. Fire or ice, I come up
however earth is scorched.



To believe in one many-paned window
is to love the obvious
involved: cloud and sky all upper glass
looming how far
far is. Of earth and close,
the lower half mobbed by that fireweed.
Tiny flames, high stems.



Pull back and in. The cabin's rusted can
of pencils on the sill, erasers worn down by
second thoughts. Someone here first. No, everyone
here first! A candle, an old book about wolves
bears, sheep, lynx--



The nerve: do I think I'm actually
doing something? Between
our little and the large?


* * *



Vague ringing in the ear these mornings
makes a kind of silence. Late summer.
Spruce letting in blue
through its spikes. To be here, to stall speechless
at what mountains do
and keep doing--is it the human part that sees
or the cheap auto-brief-buzz
camera part? Simple words again: tree,
gravel bar. Look up--
amazing! Yeah. Like a caption is needed.



What I really want? Not the physics of
eye and brain taking in light to
make color, not behaved
in some frame. A hunger so old
and split-second lunge, so
time-rich, time-starved, wooly
musk-matted...



The grizzly rears back, massive head going left
then right. So the Ranger mimes
to warn big, a cartoon of bear
bent over us, closer, his
scent-roar Moose? Caribou? What is that--



Worse. My face and my fear, my two arms
in a down vest.



* * *



The higher the flowering on fireweed, the sooner
winter shows up. This plant
tells time! Three people said that.
I do see a quickening. Every few days
another hour of light
shot, the flower shedding beauty and adding
beauty, low shutter speed up the stem.
The heart sinks into its permafrost.
* * *
Okay. A common enough story--
Day six. Two bears stop our hike until
a safer place down the Park Road
to enter and go up past lichen and moss, past
the spare yellow work of flowers.
Climb and climb, off-balance scary particulars,
narrow ledge and stones,
my boots and sticks where caribou leave closed
parentheses in mud, the spot
one of them tracked, stood and straight up
turned: sudden
Denali in snowy splendor.



Nothing ironic, this
too big a dream. Rain at night
urgents into day.
Drops of clear vision on fireweed, tip
of spruce and willow, on the rope's
knot out there--
Window for a reason, inside
where I write human enough, in two shirts,
a wool sweater.



* * *



Always a map of this world, and emphatic
somethings on a sign. It's the raven
sleek-ragged flapping there, folding down to
scold at the Toklat Station,
his cranky eloquent you, how dare you, yes
you and you….



We're just so beside the point, right?
Only is is is
to walk and to breathe.
The boots I think waterproof
aren't. But we hike the tundra anyway, soggy
each next and next gives way to
the underworld, tangled
low willow, what a god-forsaken
maze to get through. All of it farther,
the Ranger saying see that ridge?



(stanza break)



Miles, and rain turns snow.
Wet into old
isn't long. Berries. Roots. Twigs. The bear
beyond us or
so like us, making ready for that
dank underground, crazy now, raking
everything into his mouth.
Later, what in me
keeps waking? Same rain
the small hours--let go, let go--
off overhang and roof.



Expand. I mean stop.
You step in tundra and it might
recall something. The brain takes the imprint
danger, the drastics
the way snow remembers night's
freeze on the mountain even at noon.



First news I heard at Denali: a photographer
snapping and snapping too close.
Proof: his flannel shirt in that bear, indigestible
woven blue and black bolus. And they
did with it—what? In a jar? On a shelf? Some
dusty afternoon? The things
that keep me awake.
* * *
Fireweed, your blossoms are red paper
shards of blossom. I count
six, seven—would that be weeks until winter?
A clock ticking, here where
there is no clock. Early to ancient
undoing year whatever this is.
A branch. In wind.
Dark as rain can ink it—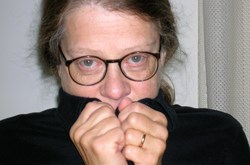 Marianne Boruch
, of West Lafayette, IN, is a poet whose eight collections include the recent
Cadaver, Speak
and
The Book of Hours
(Copper Canyon Press, 2014, 2011). She's also written two essay collections about poetry, and a memoir,
The Glimpse Traveler
(Indiana, 2011). Her work has appeared in
The New Yorker
,
Poetry, London Review of Books, American Poetry Review
, and elsewhere. She's been awarded fellowships from the National Endowment for the Arts and the Guggenheim Foundation, and artist residencies at the Rockefeller Foundation's Bellagio Center (Italy) and at Isle Royale National Park. Boruch was a Fulbright/Visiting Professor in 2012 in Edinburgh, Scotland though usually she teaches in Purdue University's MFA program which she established in 1987. Much of her work concerns the natural world, especially her Kinsgley-Tufts award winning
The Book of Hours
, the fierce and mysterious nature of that world and our troubling human place in it.
Last updated: March 29, 2017