We have the coolest job in the world. It's true. Half our job is helping people plan the trip of a lifetime, making sure they have a safe and successful backcountry adventure. The other half of our time we are actually out in the backcountry, backpacking for 3 to 5 days at a time. These backcountry operations, or "patrols" as we often call them, are the highlights of our job, but they aren't just fun and games, they are a lot of work too. Here is a look into one of our recent trips into the backcountry.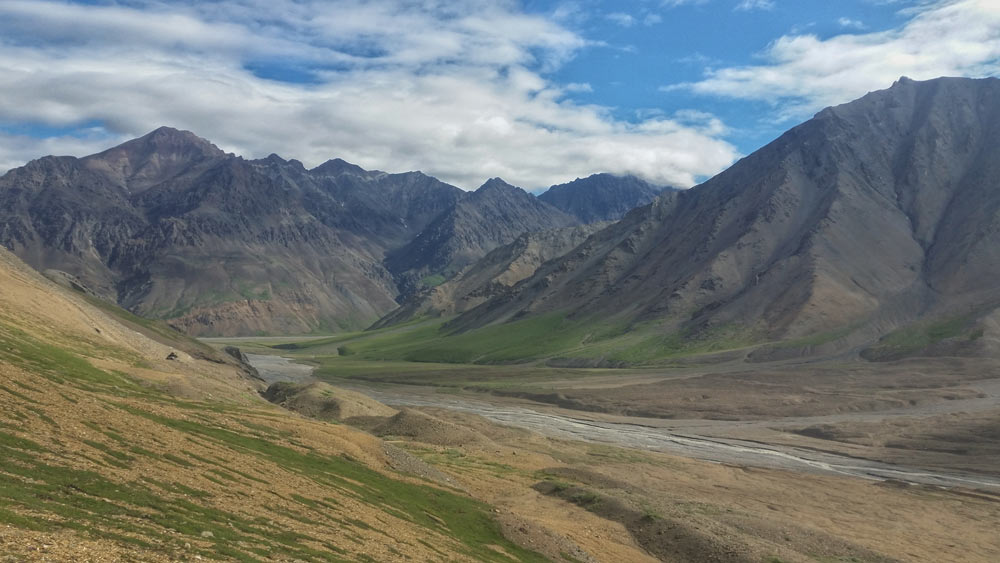 Backcountry Rangers spend about half our time in the backcountry, and half in the Backcountry Information Center (BIC). The BIC half is often spent dreaming about the backcountry. NPS Photo.

A "standard" patrol is two rangers going out for three days (two nights) into the backcountry together. Ranger Nate and I went on patrol last week to the headwaters of the Toklat River. It was a great trip with both of us visiting some popular areas we had never before seen.
Day 1
Before we began our trip we mapped out our itinerary and filed it with our emergency contact (for us: our boss). Our mission was to go up one branch of the Toklat River, over a pass, and down the other branch back to the road. We started our trip on the bus just like all the other backpackers heading deep into the park.
Once we arrived at the Toklat River we hopped off the bus and began our hike. There was a recent caribou kill about a mile from our starting point, so we made plenty of noise to ward off any bears or wolves that might be travelling to or from the carcass.
As we hiked up the Toklat we knew we needed to cross the river at some point. We kept our eye out for a braided stretch of river and eventually found one about about 6 miles up. The river crossing involved wading through 5 or 6 knee-deep braids of cold, brown water. Our pants, socks, and boots all got wet, but that's just part of hiking in Denali.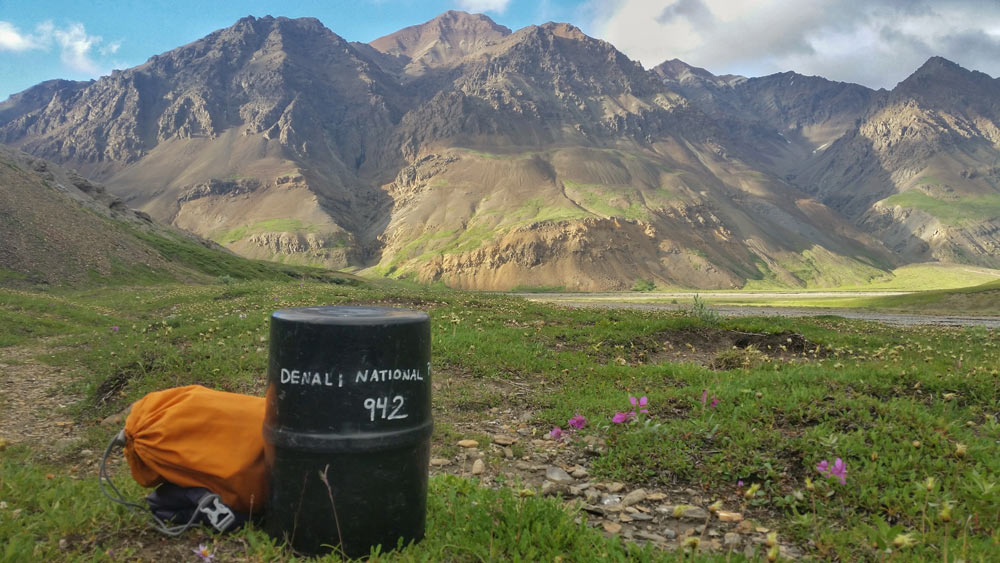 Even rangers use bear cans and the "golden triangle" when camping in the backcountry. NPS Photo.
"VROOOOOOOOOOOOM!" An airplane flew overhead and one of us called out "overflight!" The Wilderness Act of 1964 established areas of the country that provided "outstanding opportunities for solitude" to be protected under federal law. One aspect of solitude is the ability to get away from man-made noises, like airplanes, and be immersed in only natural sounds. We record our location and the nature of any aircraft noise we hear when we are in the Denali Wilderness, to give some context and paint a picture about what kind of sounds visitors are hearing when traveling through the backcountry. This is part of the Denali Soundscape Monitoring Program.
We hiked a few more miles, finding a beautiful tundra bench to camp on with views of waterfalls and glaciers in the distance. We found a small food wrapper there, a rare but clear indicator that we were not the first people to camp at this spot. Our protocol when finding trash is to pack it out and GPS waypoint the location, so we can track if trash is being left behind at high rates in any particular area. This waypoint will later go into our database of "resource impacts" to help management teams ensure that visitors continue to have access to a clean Wilderness with few or no visible human impacts.
The weather had been great all day and we stayed up after dinner for a spectacular sunset. At the end of day one we had hiked 9 miles gently rising 800 feet in elevation.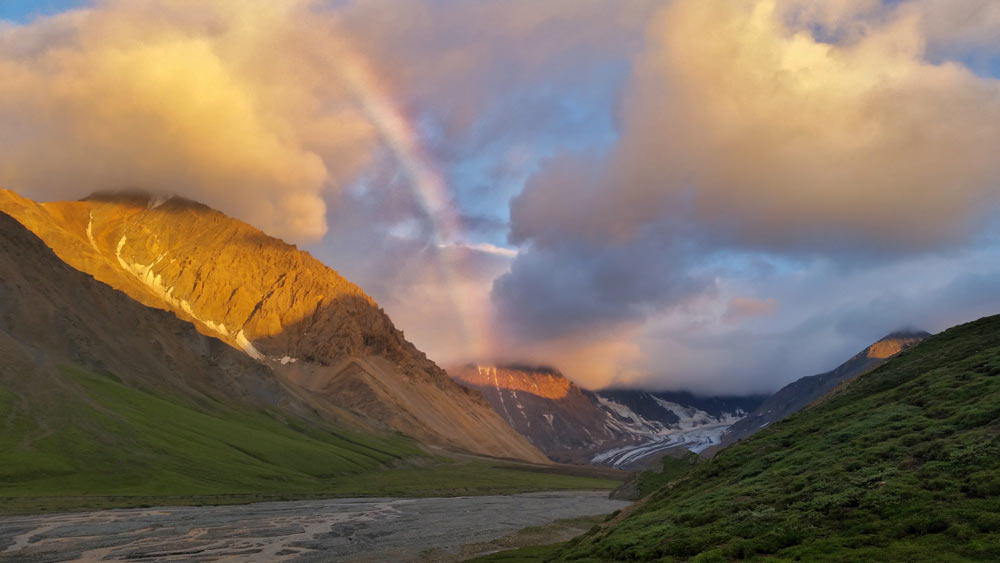 Sunset at Camp 1, with views of a waterfall, glacier, and rainbow. NPS Photo.
Day 2
Day two was going to be our big day. Our intention was to hike over a pass that seemed like it would "go" based on what we could see on the map, but we weren't quite sure. We woke up to more great weather, had our breakfast and hot coffee, packed up camp, and headed up a small creek towards the pass.
The drainage we traveled in was steep but mostly solid rock. We criss-crossed the creek more than a dozen times and hiked on some thick snow-patches that still hadn't melted out from winter. Traveling on snow in remote areas requires careful consideration and assessment. We never hike alone while working in order to further mitigate any risks that we may take. We reached the top of our steep pass just as clouds were building and weather started to move in.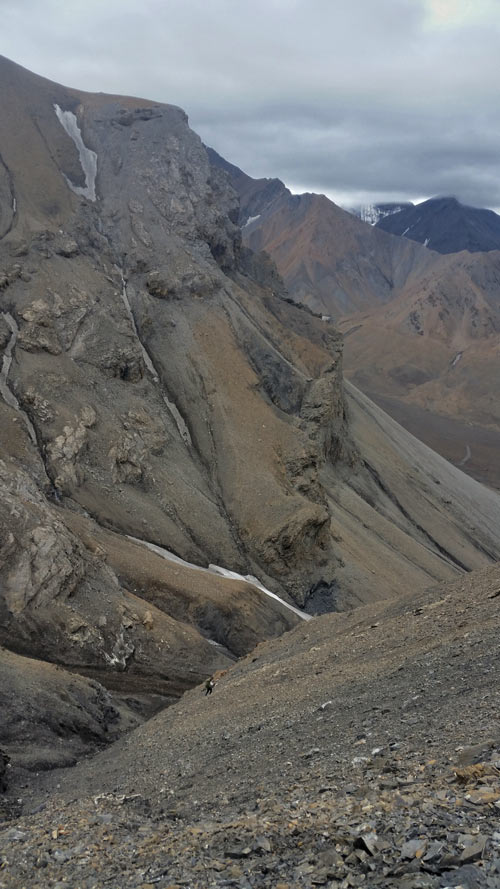 Ranger Nate carefully works his way down the pass. NPS Photo.
We carefully worked our way down the other side of the pass, hiking mostly on scree and other loose rock. At one point we ended up on top of a waterfall. We were forced to turn around, climb back up the mountain a short ways, and find a different route down. Route-finding in the Alaska Range is something that takes patience, humility, and experience. We made our way to the base of the pass, hiking on the moraine of a receding glacier just as the rain started falling.
It wouldn't be a backpacking trip in Denali without a little rain. We quickly put our rain gear on and started hiking downriver from the glacier, keeping our eyes peeled for any nice flat camping spots near a good water source. After about a mile we found one, and the rain cooperated, letting up just long enough for us to pitch our tents before it started again. We had enough time to climb up a small ridge and have dinner overlooking the glaciers in the distance. At the end of the day we had hiked 6 miles with 2000 feet of elevation gain and then loss. It rained all night, sometimes waking us up with torrents blasting our tent rainflies.
Day 3
Day three was straight-forward. We needed to hike out 9 miles, and we needed to cross the Toklat River to do so. As we began hiking North early in the morning we saw a pair of tents in the distance. We changed our route so that we could contact the happy campers. We arrived as they were finishing breakfast, just sipping down the last of their coffee. When we see other visitors in the backcountry we always stop and chat. We check their permit to make sure they are in the proper unit, check to make sure they have their bear cans and are adhering to the "golden triangle" rule, and see if they have any questions for us. Checking that visitors are complying with our regulations and Leaving No Trace is one of our main backcountry functions.
After parting ways with the campers we continued on our hike, keeping in mind the imminent river crossing that lay ahead. Crossing the Toklat can be tricky, and the hard rain the night before led to high water. Channels were swift and deep. Despite trying multiple times at what were clearly the "best spots we've seen so far," we were not able to successfully cross the river for the first 8 miles of our day. Only when we were almost back to the road were we finally able to cross the Mighty Toklat, and it was still a deep and swift crossing. River crossings in Denali are serious business, and conditions change dramatically with rising temperatures and increased precipitation.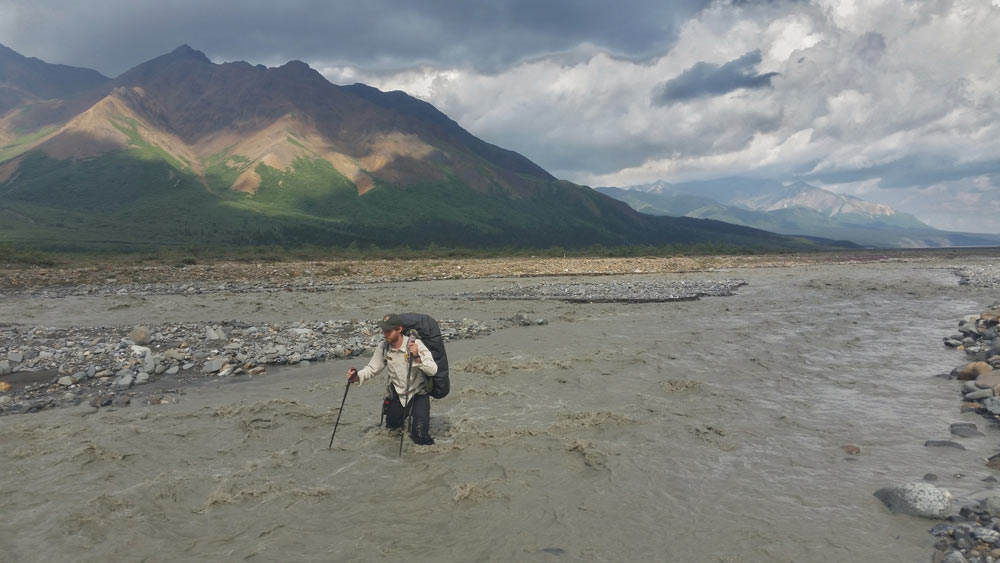 Ranger Nate works his way across the swollen Toklat River. NPS Photo
We could finally see the road, and thought our trip was over. But of course, it wasn't. We could see about a half-mile in the distance 3 bears (a sow and her two cubs) walking on the road. We stopped hiking and waited to see where they would go. They hopped off the road and ran down the hill in our general direction, still about a half-mile away. We got together, ready to get big and loud, but the bears turned and walked the other way before ever noticing us. We made our way to the road, keeping a wide birth of where we had last seen the bears. We eventually saw them scrambling up a far-away hill and knew we were in the clear. We changed out of our soaking wet boots and caught the bus back home. Another successful backcountry operation was in the books.
Now what?
Once back home we rushed to the nearby restaurants to fill up on burgers and pizza. We aired out our wet gear and shower for the first time in days. The next day we were back in the BIC, helping visitors plan trips all over the park, with a newfound affinity for the area we just visited. In the following days, one of us wrote the "patrol report" for our trip, documenting everything we saw in the field. This includes the location of the backpacking group we ran into, the location and nature of the trash we found, the aircraft overflight data, and route conditions. This goes to a database that can be accessed by other rangers to learn about conditions and trends in different areas of the park.
That's an entire backcountry operation, start to finish. Some of our field time looks different, with either more or less time in the field, and sometimes we have very specific objectives that send us to a certain part of the park. Those missions often include hiking out large trash or debris that has been found, fixing Wilderness boundary markers and signs, helping scientists install backcountry research equipment, and much, much more. Either way, our backcountry operations take us all over the park for a variety of tasks.
So when you come to Denali and arrive at the BIC to get your permit, feel free to ask us about any unit you are curious about. Between the two rangers working the office that day, the answer to the question "have either of you been to this area before?" will likely be an excited "yes!"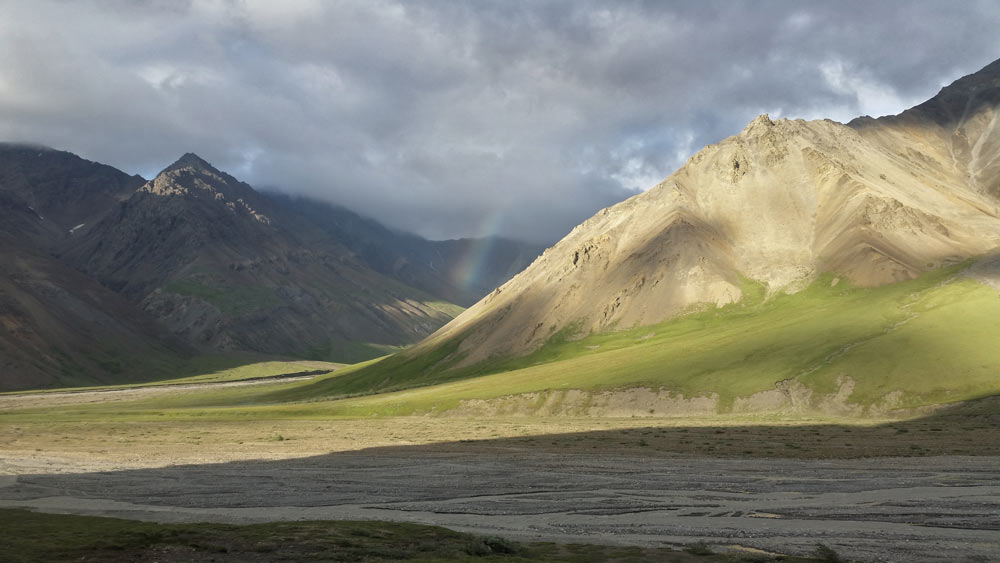 NPS Photo