Bike With A Ranger
Explore Dayton's national park on a ranger guided bicycle tour -a mode of transportation connected with the Wright brothers. Hear stories about the people and places that helped to make Dayton the birthplace of aviation. Visit the homes of Orville Wright and Paul Laurence Dunbar or learn about the history of Wright-Patterson Air Force Base. Scroll down to review this season's tour schedule.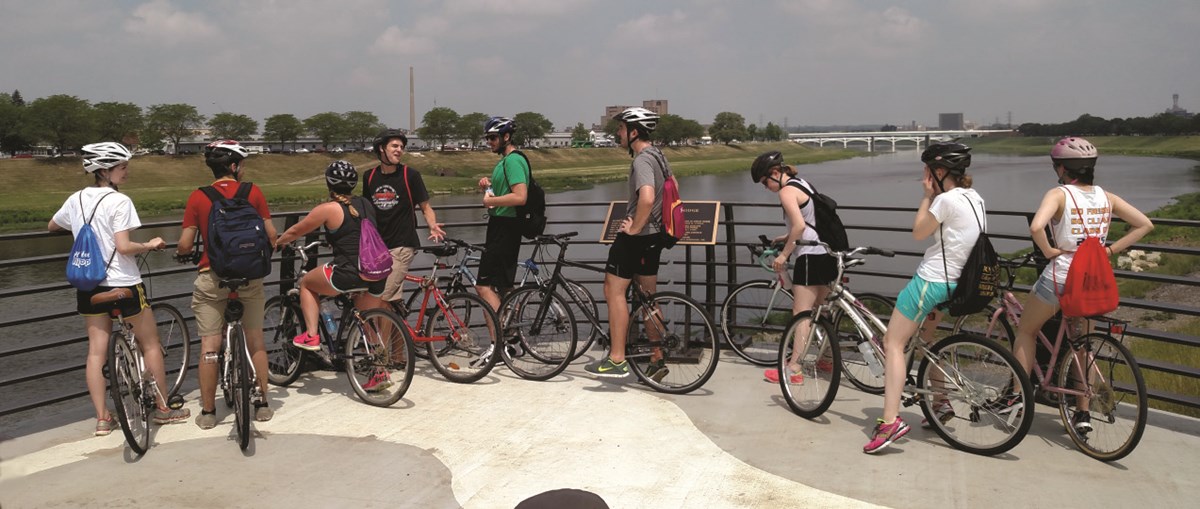 Bike with a Ranger Touring Schedule
Touring Schedule
The 2018 season has ended. Thank you for making this season's tours another success! Come back in the spring to see 2019's tour schedule.

Visit the historic places Orville Wright and Paul Laurence Dunbar called home. Learn how the Wright brothers' knowledge of bicycles helped them to develop the world's first practical flying machine. Discover the Miami Valley's scenic trail system and experience aviation history, all from the comfort of a bicycle.
2018 Tour
Hawthorne Hill Tour - 8 miles
Start Location: Wright-Dunbar Interpretive Center
Visit the post-1914 home of Orville, Milton, and Katharine Wright. Learn about life with the Wright family, and Orville's experiences in this historic home. This ride features some moderate hills so make sure your bicycle can shift gears.
Paul Laurence Dunbar Tour - 4 Miles
Start Location: Wright-Dunbar Interpretive Center
Ride the Wolf Creek Trail to the final home of poet and author Paul Laurence Dunbar. See exhibits on Paul's life and tour the home Paul lived in with his mother Matilda until his death in 1906. This ride is a great way to get comfortable with bicycling.
Wright State Archive Tour - 10 miles
Start Location: Huffman Prairie Flying Field Interpretive Center
Bike the Huffman Prairie Trail and take a behind the scenes tour of Wright State University's Special Collections and Archives Center. Learn about the work that goes into preserving and providing access to primary sources for teaching, learning, and research. See items from the Wright Brothers Collection and explore exhibits relating to flight.
Important Information regarding bike tours:
All participants must register prior to the start of each tour.
Plan on arriving twenty minutes before each tour start for sign-in and orientation.
Riders should be in good physical condition and feel comfortable shifting gears.
Inclement weather may cause tour cancellation. Huffman Prairie may close without prior notice as it is located on an active military installation. You can call the park if you have questions regarding tour status.
Participants are required to bring their own bicycles and personal gear, including snacks, plenty of water and sunscreen.
Proper wear of helmets is required.
Bicycles should be in good operating condition and are subject to safety inspections.
Last updated: May 21, 2019