Be A Junior Ranger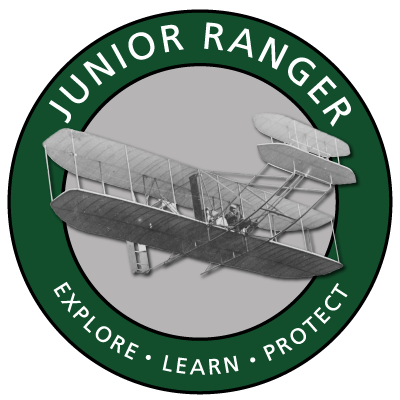 Explore. Learn. Protect.
The Junior Ranger motto is recited by children (and adults!) around the country; each taking an oath of their own to protect parks, continue to learn about parks, and share their own ranger story with friends and family.

The NPS Junior Ranger program is an activity based program that offers young visitors the opportunity to join the National Park Service "family" as Junior Rangers.

Interested youth complete a series of activities during a park visit, share their answers with a park ranger, and receive an official Junior Ranger patch and Junior Ranger certificate. Junior Rangers are typically between the ages of 5 to 13, although people of all ages can participate.

Scroll down to find out the ways to become a Junior Ranger!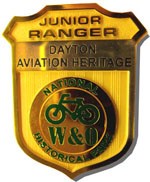 Become a Dayton Aviation Heritage NHP Junior Ranger!
Becoming a Junior Ranger is a great way for your child to explore national parks. It's also a great way for the entire family to learn more about Dayton's only National Park and about the National Park Service. All interested future Junior Rangers, between the ages of 6-12, should report to the Wright-Dunbar Interpretive Center. At the front desk just ask for a Junior Ranger booklet to get started.

It's fun, FREE, and easy!

Come and join a growing group of kids who are interested in the world around them and involved with their nation's heritage. Become a Dayton Aviation Heritage National Historical Park Junior Ranger. Upon completion of the required activities in the booklet, each participant can receive a Junior Ranger badge at each location and have an official park ranger sign their certificates of completion. Children must be accompanied by an adult. For more information, please feel free to Contact us. Visit the Directions page for information on how to get to the park.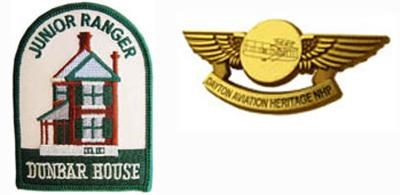 More ways to become a
Dayton Aviation Heritage NHP Junior Ranger!
The park has several junior ranger programs to choose from, some that are better done in person, and some that can be done anywhere! Check out the information below to learn more about junior ranger resources at the park:
The Paul Laurence Dunbar Junior Ranger Book is now online! Download the book here. The book can also be picked up in person by visiting the Dunbar House.
Earn Junior Ranger wings at Huffman Prairie Flying Field Interpretive Center when you complete the Junior Ranger booklet. Once you arrive, ask a ranger for a Junior Ranger booklet to start your adventure.
Become a Prairie Ranger at Huffman Prairie Flying Field Interpretive Center . Visit the center for more information and get a junior ranger activity kit for use at Huffman Prairie Flying Field.


Last updated: April 25, 2023