Visit the Cuyahoga River
Experience the Cuyahoga River on and off the water.

Opportunities to canoe and kayak grow each year. The National Park Service is working with community partners to create the Cuyahoga River Water Trail along the length of the river. Within Cuyahoga Valley National Park, we currently maintain primitive access points and provide recreational water quality information from May through October through the USGS Great Lakes NowCast website. Facilities and services will expand as the water trail fully develops.

The Towpath Trail and Cuyahoga Valley Scenic Railroad run adjacent to the river and provide opportunities for viewing. Outdoor exhibits at Station Road Bridge Trailhead and the Village of Peninsula aid your views.

Visit the National Park Service's Prepare for Your Activity webpage for info on water safety.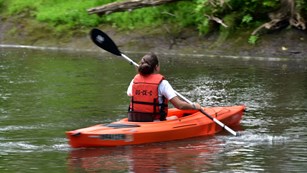 Paddling the River
Learn more about canoeing and kayaking on the Cuyahoga River.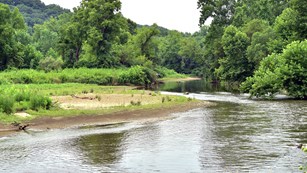 Cuyahoga River Water Trail
Get involved in river-wide efforts to create and improve the Cuyahoga River Water Trail.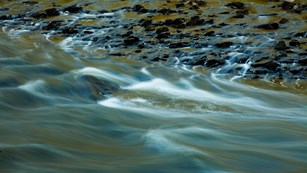 Water Quality
Cuyahoga River water quality is not always good. Check the current status to plan a safe visit.
The Towpath Trail
Historically, the Ohio & Erie Canal drew water from the Cuyahoga River. Today, you can view the river from many locations along the trail.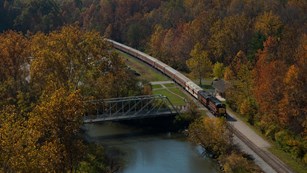 Cuyahoga Valley Scenic Railroad
Cuyahoga Valley Scenic Railroad runs adjacent to the river. Plan a trip aboard the train for views of the river from the window.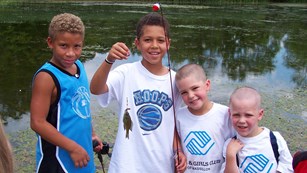 Fishing
The Cuyahoga River and numerous park ponds are open for fishing.
Last updated: May 19, 2021