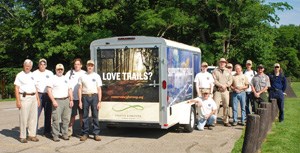 The Trails Forever initiative was founded in 2007 as a partnership between Cuyahoga Valley National Park and the Conservancy for Cuyahoga Valley National Park, as well as volunteers, trail advocates, and other trail partners. It is based on successful models from Acadia National Park, Great Smoky Mountains National Park, and Golden Gate National Recreation Area.
To date, Trails Forever has accomplished many important milestones. In 2013 alone, park staff and community volunteers completed 244 individual maintenance projects. Collectively, 460 individual volunteers donated 8,733 hours to support these projects.
In addition, through funds generated by the Trails Forever Legacy Fund, the National Park Service purchased a trailer to haul tools, which is essential for maintenance projects along the trails, and hired a trails volunteer coordinator. Specific trail accomplishments include:
Over 220 downed and hazardous trees removed from trails
Tread repair and drainage work completed on 1260 feet of trail on multi-use trails
21 trail signs replaced or repaired
3 trail bridges repaired at the following locations: Towpath Trail south of Jaite Mill, Wetmore Trail, Buckeye Trail and one bridge replaced on Stanford Trail
2 new benches installed on the Towpath Trail at Lock 35 (Whiskey Lock) and north of Station Road Bridge Trailhead
60 ft of trail fencing replaced on the Towpath Trail at Lock 29 (Peninsula) and Haskell Run trail
4 trail culverts replaced with new stone-armored crossings at Stanford and Wetmore trails
9,750 feet of Towpath Trail resurfaced with limestone screenings
600 feet of Towpath Trail near Boston Store paved with new asphalt
New rock staircase (50 feet) installed on Haskell Run/Ledges Connector trails
3 trail re-routes installed (200 feet): Wetmore, Old Carriage Connector, and Furnace Run trails. Re-routes needed on these trails due to washouts and need for proper drainage and sustainability.
Even with all of these wonderful accomplishments, there is still work to be done. Click here for more information about supporting Trails Forever.