River Renewal Underway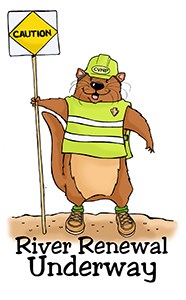 Restoring the Cuyahoga
To play our part in improving the health of the watershed, CVNP is embarking on a number of large-scale restoration projects.
The projects will result in long-term benefits to the Cuyahoga River, but occasional short-term closures to public use of the Towpath Trail and other areas in the park. The National Park Service is working to finalize dates for the projects. However, at this time, we are unable to predict when the short term closures will occur.
We will notify the public about any closures of the Ohio & Erie Canal Towpath Trail. Stay up to date by checking
our alerts page.
Also be sure to keep an eye out for Ollie the Otter! Anytime you see him, it is a reminder that our River Renewal is Underway!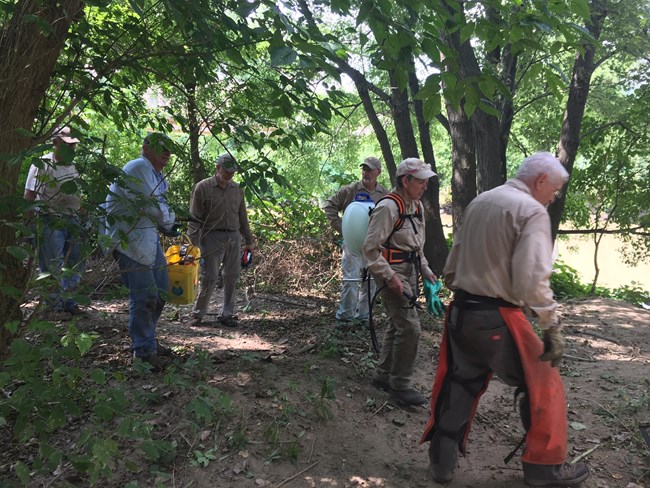 Spring 2020
Canal Dredging
Removal of debris from the historic canal trace to better preserve the historic alignment and improve water movement. This project was completed in March of 2020. Dredging has enhanced the cultural resources along the canal and the river and removed significant sediment from the canal.
Brecksville Dam Removal
Removal of the concrete diversion dam to restore a more natural flow to the river, improve water quality, improve safety of recreational use of the river and allow for migration of native aquatic species. Work will affect Station Road trailhead and parking lot, Towpath from Station Road north past the State Route 82 Bridge; Involves closures, heavy equipment traffic. Project begins in May of 2020 and continue through at least the fall of 2020.
Wetmore Habitat and Wetland Restoration
Improve water quality, enhance wildlife habitat, and decrease erosion through the removal invasive species on over 110 acres of degraded habitat including fields, former wetlands, and previously forested land.

Reforest approximately 29 acres of former pasture, and establish woody vegetation along about 700-linear feet of Dickerson Run.

Create a small (less than half acre) wetland to retain stormwater runoff and improve the condition of up to 1,000-linear feet of streams near the Wetmore Trailhead parking lot using a technique called regenerative stormwater conveyance. This is a technique for restoring streams with a series of steps and pools.

Most of the work will be done by park staff and volunteers.

The site was be mowed to prepare it for reforestation efforts. Reforestation began in September 2019 and will continue through the fall of 2020.

Reforestation and restoration will include planting native species such as sycamore, red maple, and cottonwood.
Summer 2020
Station Road Parking Stormwater Management
Installation of sub-surface containment cells that will collect and hold run-off from the parking area and allow for greater recharge, reduce discharge of stormwater run-off directly to river and improve water quality. Work will affect the Station Road trailhead and parking lot, reduces the number of cars able to park at this location, and affects access to Towpath and to river access location.
Fall 2020
Repairs to Station Road Pedestrian Bridge
The historic bridge will be cleaned, painted and the decking will be removed and replaced. Work will affect the Station Road parking area and limit/restrict access to the Towpath Trail.
Stream Restoration at Towpath Trail -Boston Trailhead
Full scope of work still being determined. Work will involve possible closures of Towpath Trail and Boston Trailhead.
Habitat Restoration and River Access Improvements - Lock 39
Most of the vegation is invasive Japanese knotweed and honeysuckle. The habitat restoration project involves removal of invasive plants and replanting with native species that will improve wildlife habitat and provide improved erosion control.

Phase two of the project will involve improving the river access trail, adding signage to delineate access, and eventually barnstones to improve paddler's ability to enter and exit the river at Lock 39.
Spring/Summer 2021
Army Corps of Engineers Floodplain Restoration
Work would involve the reshaping of areas of the floodplain directly adjacent to the river. Work will affect both sides of the river from Station Road south one mile. Work will impact Towpath Trail access and Station Road parking, and possibly affect river access. Possible closures to Towpath Trail between Station Road and Red Lock.
Stream Restoration at Station Road
Realigning a drainage pattern that was established with the historic road construction so that stormwater runoff is redirected to an established wetland eliminating a discharge directly to the river. Work will affect parking lot capacity.
Ongoing Projects
Boston Area Improvements
Parking has been reconfigured near Boston Store to improve pedestrian flow and access to facilities and services.
Some hardened surfaces are planned to be removed to reduce runoff into the Cuyahoga River.
Construction of a new pedestrian bridge over the Cuyahoga River to provide safe access to the Boston Mill Visitor Center from the Boston Store area is expected to begin in the summer of 2021.
Stanford Run Restoration
Restore a more natural flow/flow capacity and alignment of Stanford Run which has been modified over the years by agricultural activities, construction of the Ohio and Erie Canal and regional development. This project will also help protect the Ohio and Erie canal prism and Towpath Trail by restoring more natural stream flow conditions. Work will at times require closures of the Towpath Trail and connector trails between Boston and Red Lock. The project should be completed by late November and that will include replanting the site and connection of the stream to the new channel.
Jaite Mill Remediation
Continuation of evaluation and mitigation of contamination and contaminated soils that currently exist on the site and environs of the historic Jaite Paper Mill. Work will involve closures to Towpath and Valley Bridle Trail between Boston and Red Lock.
River Access Improvements
The park is currently working on improvements to existing access and adding new river access points for wildlife viewing, paddling, and fishing. Current access exists at Lock 29, Boston, Red Lock, Station Road, and Lock 39 (Rockside Rd.).
Last updated: May 15, 2020