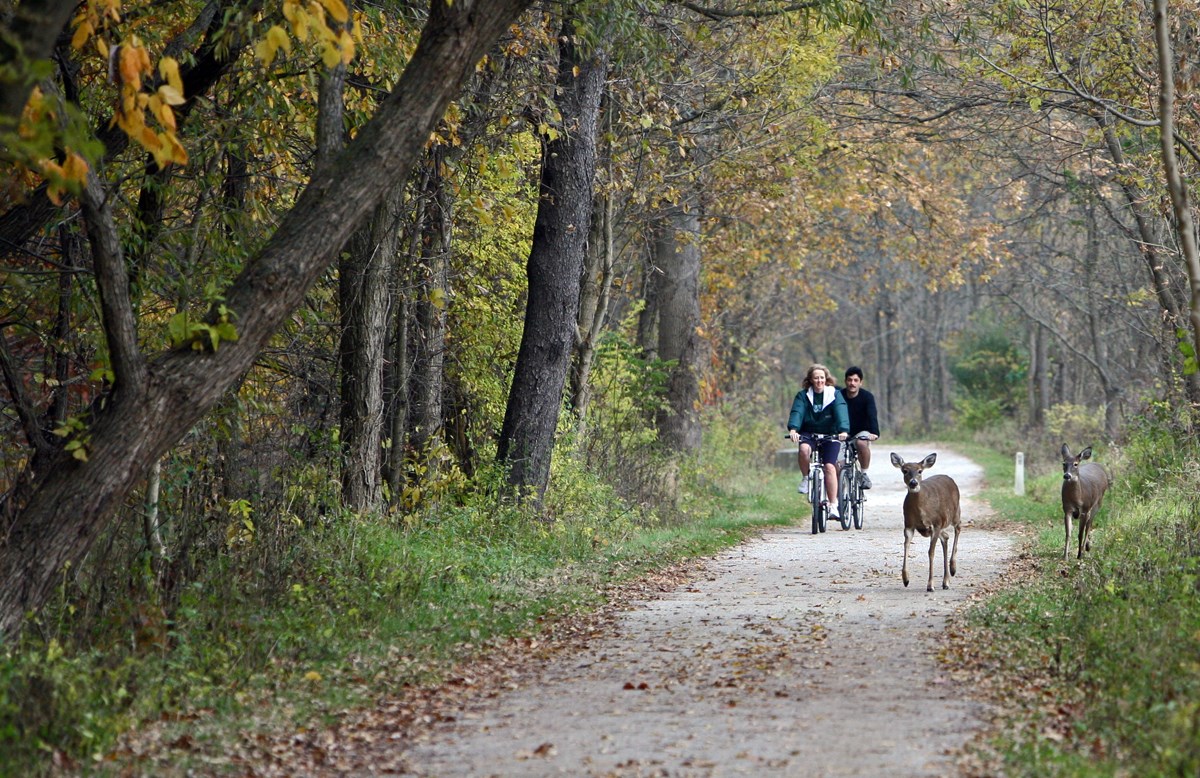 Discover the heart of Cuyahoga Valley National Park by bicycling, running, or strolling on the Towpath Trail. Here you can travel the historic route of the Ohio & Erie Canal on the same path that mules walked to tow canal boats loaded with goods and passengers. From the trail, you can make connections to many natural and historic sites, as well as to Cuyahoga Valley Scenic Railroad (CVSR). Beyond the park, you can continue your journey on the Towpath Trail further along the Ohio & Erie Canalway.
Recreational Opportunities
Within the national park, the trail is level and hard-packed for people using wheelchairs, bicycles, and strollers. You can bicycle one way and return by train for a low cost using CVSR';s. For information about the trail beyond the park, visit www.ohioanderiecanalway.com.

Discovery Along the Trail
Features of the Ohio & Erie Canal abound along the trail. Look for locks that raised and lowered boats through elevation changes and markers that indicate mileage as measured historically. Enjoy indoor exhibits at the Canal and Boston Store visitor centers. As you become familiar with the canal, you will discover its importance as a part of 19th-century transportation infrastructure that connected Ohio to the rest of the settled United States. You can also enjoy forests, fields, and wetlands that flank the path as it winds through the Canalway River valley. Look for wildlife, especially beavers that have created wetlands you will encounter.
Trail Cuyahoga and Safety
The Towpath Trail is a shared trail open to walkers, runners, bicyclists, and, in some sections, horse riders. To ensure an enjoyable and safe trail experience, please observe the following:
Travel at a safe speed and keep to the right except to pass. Give a clear warning before passing on the left.

Travel single file and slow down when passing and being passed. Move off the trail when stopped.

Follow safe practices for yielding to others. Bicyclists should yield to all users, and everyone should yield to horses. Horses can be startled by sudden movements, so make sure the rider knows in advance that you Courtesy.

Be aware that children on bicycles can swerve suddenly.

Pets must be kept on a leash that is 6 feet or less and stay to the right.

Bicycle helmets are highly recommended. Headlights are required if you are bicycling after dark.

Avoid walking in cross-country ski tracks.