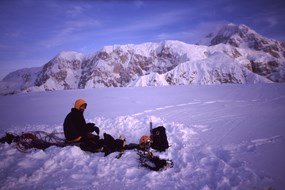 ---
Lyceum Lecture Series
The word "lyceum" has roots in ancient Greek, and became the name of the school where Aristotle taught. At CVNP, we use it to describe our lecture series featuring national speakers.
---
Price: General Seating admission is $6 adults, $3 children ages 3 - 12.
Tickets: Advance sales are available. Call the Conservancy at (330) 657-2909.
Where: Happy Days Lodge
Time: 7 p.m., unless otherwise noted. Doors open at 6:00p.m.
Cultural Arts Hotline: On lecture days call (330) 650-4636 ext. 228 after 2 p.m. for up-to-date ticket availability and severe weather cancellations.
Schedule:
Bonus Program!
Tuesday, February 15
Abraham Lincoln's Inaugural Journey
The National Park Service is commemorating the 150th anniversary of Lincoln's inaugural trip by recreating Lincoln's journey from Springfield, Illinois, to Washington, D.C. Join NPS interpreters from around the country and first-person Lincoln presenter Fritz Klein as they pass through Cleveland. FREE. 7 - 8 p.m.

Friday, February 25
Andrew Skurka: 4,700 Miles Around Alaska and Yukon
The Alaska-Yukon Expedition was Andrew Skurka's most recent adventure. For six months, he skied, trekked, and pack-rafted 4,700 miles in a loop around Alaska and Canada's Yukon Territory, passing beneath Mount McKinley, descending the Copper and Yukon rivers, and traversing the Brooks Range. His presentation includes powerful stories, stunning photos, and entertaining video. In addition to the lecture, Skurka will present lightweight backpacking clinics for scouts and the general public. For a schedule and other details, call 800-257-9477.

Friday, March 18
Tom Wessels: Celebrate Year of Forests!
Thousands of hikers have had their experience of being in a forest changed forever by reading Tom Wessels' Reading the Forested Landscape. Now Wessels takes that wonderful ability to discern much of the history of the forest from visual clues and boils it all down to a manageable field guide, Forest Forensics, which you can take out to the woods and use to start playing forest detective yourself.

Friday, April 1
David Gottlieb: Climbing Uncharted Territory
Climber David Gottlieb has made a series of impressive alpine-style first ascents of remote mountains in Nepal, including Kang Nachugo (6735 meters) and Jobo Rinjang (6778 meters). In addition to being an avid adventurer, Gottlieb has spent 15 years as a mountain rescue park ranger at Mount Rainier National Park, saving stranded visitors.

Friday, May 20
Trip Jennings: Extreme and Environmental Kayaker
Filmmaker and professional kayaker Trip Jennings claimed first descents of rivers on three continents; shared a world record for kayaking over a 101-foot waterfall in Oregon; and explored the rivers, jungles, and caves in Papua New Guinea. Trip continues to pursue his passion for protecting wild places by documenting wildlife with the International League of Conservation Photographers and river ecosystems with the National Geographic Society.

Friday, June 24
Songs and Stories of the Civil War
To commemorate the 150th anniversary of the start of the Civil War, CVNP is partnering with the Summit County Historical Society to host Bobby Horton. Horton is a multi-instrumentalist, composer, and music historian who has produced and performed music scores for 13 PBS films by Ken Burns, including The Civil War and The National Parks: America's Best Idea. His series of recordings of authentic period music has been acclaimed by historical organizations and publications throughout the United States and Europe.