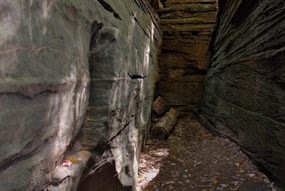 Thanks to our enthusiastic volunteers, Cuyahoga Valley National Park now offers a fun new way to use your portable Global Positioning System (GPS).

EarthCaching™ is an offshoot of geocaching that involves treasure hunting for caches that the Earth has created rather than containers hidden by humans. These self-guided hikes focus on interesting geological features.
We currently have EarthCaches™ for Blue Hen Falls, Brandywine Falls, Lock 29 to Deep Lock Towpath Trail, and Riding Run Trail. Please note that EarthCaches™ at Deep Lock Quarry and Deer Lick Cave are located on Metroparks property. For details visit, The Earth Cache Website here and search for these locations under Ohio sites.
If you encounter any problems, please e-mail us. Note that the national park does not permit geocaches at this time. Earthcachers may also enjoy Canalway Questing. Click here for more information.