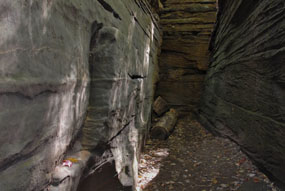 Thanks to our enthusiastic volunteers, Cuyahoga Valley National Park now offers a fun new way to use your portable Global Positioning System (GPS).

EarthCaching™ is an offshoot of geocaching that involves treasure hunting for caches that the Earth has created rather than containers hidden by humans. These self-guided hikes focus on interesting geological features.
We currently have EarthCaches™ for Blue Hen Falls, Brandywine Falls, Lock 29 to Deep Lock Towpath Trail, and Riding Run Trail. Please note that EarthCaches™ at Deep Lock Quarry and Deer Lick Cave are located on Metroparks property. For details visit, www.earthcache.org and search for these locations under Ohio sites.
If you encounter any problems, please e-mail us. Note that the national park does not permit geocaches at this time. Earthcachers may also enjoy Canalway Questing. To learn more, visit www.ohioanderiecanalway.com.