Date:
August 23, 2012
Contact:
Mary Pat Doorley, CVNP
, 440-546-5995, 440-343-7355 (cell)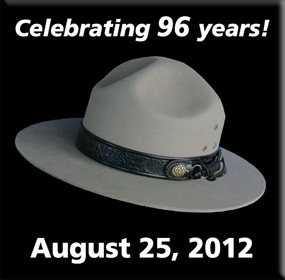 Brecksville, Ohio- Cuyahoga Valley National Park will celebrate the 96th birthday of the National Park Service by holding special events at visitor centers on Saturday, August 25. Stop by Boston Store Visitor Center where our Junior Ranger Ambassador Pya Langley will be piloting the new Junior Ranger Handbook activities. Ongoing, from 11 a.m. to 3 p.m. At Hunt Farm Visitor Information Center, enjoy outdoor music by Tina Bergmann on hammered dulcimer. Junior Rangers can try on various ranger uniforms and historic costumes, enjoy craft activities and games, and pick up activity books for Junior Ranger programs in paleontology and the Great Lakes. First 50 party goers will get a cup cake! Ongoing, from 1 - 3 p.m.
A full list of activities is at www.nps.gov/cuva.
"Birthdays are a time to celebrate and we want everyone, especially the children of America, to join the party," said Cuyahoga Valley National Park Superintendent Stan Austin. "National parks belong to all Americans and offer something for everyone - so visit the park, wander a trail, take in the scenery, or listen to our local music. Children especially enjoy the popular Junior Ranger program where they work towards a badge by taking part in kid-friendly activities."
The National Park Service was established on August 25, 1916. The United States was the first country in the world to set aside its most significant places as national parks so that they could be enjoyed by all. Today, we care for 397 national parks throughout the country - each one an important part of our collective identity. Some parks commemorate notable people and achievements, others conserve magnificent landscapes and natural wonders, and all provide a place to have fun and learn something. Plan your visit at www.nps.gov/findapark.
The mission of the National Park Service extends beyond parks into communities across the country where we work with partners to help preserve local history and create close-to-home recreational opportunities that revitalize neighborhoods and enhance the quality of life. To see what we do here in Ohio, go to www.nps.gov/OH.