Date:
May 17, 2011
Contact:
Mary Pat Doorley
, 440-546-5995
Contact:
Ralph Davila, APR
, 330-657-2909 ext. 109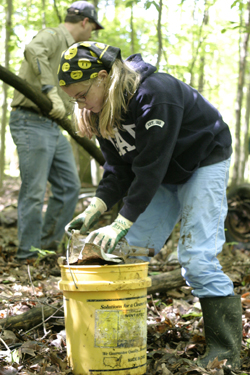 Brecksville, Ohio - Cuyahoga Valley National Park (CVNP) and the Conservancy for Cuyahoga Valley National Park are seeking energetic volunteers to help clean up the Cuyahoga River watershed in celebration of the 21st Annual RiverDay from 8 a.m. to 12:30 p.m. on Saturday, May 21. This event commemorates the 42 nd anniversary of the infamous burning of the Cuyahoga River and is part of the Friends of the Crooked River's RiverDay 2011. For more information on the other sites in RiverDay 2011, visit www.cuyahogariver.net or call 330-328-3909.
Volunteers will meet at a central location in Peninsula at 8 a.m. with projects ending at 12:30 p.m. Volunteers will receive directions for their project site, assemble into crews, and carpool or drive separately to the site. Participants will help manage populations of Japanese Knotweed and remove trash from four project sites in the Cuyahoga River watershed.
To register or for more information, contact Volunteer Program Assistant Shelby Lewis at 330-657-2296, or slewis@cvnpa.org. Registration closes on Thursday, May 19. Visit www.conservancyforcvnp.org (search by keyword "RiverDay") for more details. Meeting location will be given upon registration.
Volunteers are required to dress in work clothes with long-sleeved shirts, long pants, and sturdy boots. It is recommended that volunteers bring a filled water bottle. CVNP and the Conservancy will provide water, gloves, safety glasses, and a light breakfast. Bagels and coffee are provided through the generous support of Bruegger's (Stow) and Starbucks (Akron). Volunteers will also receive a ticket voucher for two (2) Upper Box or two (2) Mezzanine tickets to a 2011 Cleveland Indians game, courtesy of Business Volunteers Unlimited and the Cleveland Indians.
Volunteers must be at least 10 years old, accompanied by an adult, and have a signed Volunteer Agreement Form, provided by the park. The form can be found on www.conservancyforcvnp.org (search by keyword "RiverDay").
Other RiverDay activities in Cuyahoga Valley National Park include a 9 a.m. strenuous hike with a ranger, a 9:30 a.m. Junior Ranger program, and a 1:30 p.m. ranger program on water testing and monitoring. For more information on these activities, call 330-657-2752 or download the RiverDay flier from www.cuyahogariver.net.
Cuyahoga Valley National Park Volunteer Program is co-managed by the National Park Service and the Conservancy for Cuyahoga Valley National Park. To learn about volunteer opportunities please visit www.conservancyforcvnp.org or call 330-657-2296.
-NPS-