Date:
February 15, 2011
Contact:
Mary Pat Doorley
, 440-546-5995
Contact:
Jocelyn Buckey
, 330-657-2909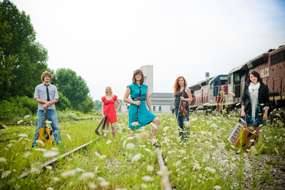 Brecksville, Ohio – The young energetic Celtic band The Outside Track takes to the stage at Happy Days Lodge as part of the Cuyahoga Valley Heritage Series. The show begins at 8 p.m. on Saturday, February 26, 2011 in Cuyahoga Valley National Park (CVNP). Doors open at 7 p.m. The Heritage Series, presented by the National Park Service and the Conservancy for Cuyahoga Valley National Park, celebrates the cultural legacy of the Cuyahoga Valley. The series is sponsored by Courtyard Marriott-Akron/Stow, 89.7 WKSU, Lloyd L. & Louise K. Smith Foundation, Ohio Arts Council, and Cable 9.
Admission is $17 adults, $12 Conservancy members, and $5 children ages 3 - 12. General seating. Advance sales are available until 3 p.m. on Friday for that weekend's show by calling 330-657-2909 or stopping at Park Place in Peninsula. For updated ticket availability information, call the Cultural Arts Hotline at 330-650-4636, ext. 228. The hotline is updated at 2 p.m. the day of every concert and is intended to inform callers of sold out events or weather related cancellations. A stunning synthesis of virtuosity and energy, The Outside Track's marriage of Canadian, Scottish and Irish music, song and has been rapturously received around the world. Hailing from Scotland, Ireland, Cape Breton, and Vancouver, its five members are united by a love of traditional music and a commitment to creating new music on its foundation. Using fiddle, accordion, harp, guitar, flute, step-dance, and vocals these five virtuosos blend boundless energy with unmistakable joie de vivre. Members include Norah Rendell (vocals, wooden flute, and whistle), Ailie Robertson (harp), Cillian O'Dálaigh (guitar and vocals), Fiona Black (accordion), and Mairi Rankin (fiddle, vocals, and Cape Breton step dancing).
Happy Days Lodge, located at 500 West Streetsboro Road (State Route 303) in Peninsula 44264, 1 mile west of State Route 8, is a restored Civilian Conservation Corps structure that provides a rustic ambiance for folk and traditional concerts, theater, lectures, and special event rentals. For more information on rentals, call the Conservancy at 330-657-2909 ext. 119.
The Conservancy for Cuyahoga Valley National Park is a nonprofit organization created to engage public support for the park and provide services to enhance public use and enjoyment of the park. For more information about the Conservancy and its membership program, visit www.conservancyforcvnp.org or call 330-657-2909.
CVNP encompasses 33,000 acres along the Cuyahoga River between Cleveland and Akron, Ohio. Managed by the National Park Service, CVNP combines cultural, historical, recreational, and natural activities in one setting. For more information visit www.nps.gov/cuva or www.dayinthevalley.com or call 330-657-2752 or 800-257-9477.
Download a pdf of this news release.
-NPS-