Date:
October 25, 2010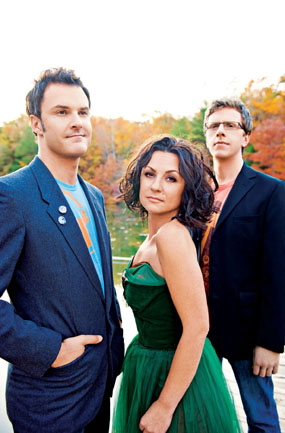 Cuyahoga Valley National Park News Release
For Immediate Release–Monday, October 25, 2010
Mary Pat Doorley, CVNP, (440) 546-5995, (440) 343-7355 (cell), or mary_pat_doorley@nps.gov
Jocelyn Buckey, CVNPA, (330) 657-2909 ext. 106, or jbuckey@cvnpa.org
The Greencards Bring Bluegrass and Americana Hits to Happy Days Two-time Grammy nominee draws fans across the county with unique style
Brecksville, Ohio – The critically acclaimed acoustic band, The Greencards, brings its talents, love, and respect for bluegrass, Americana, and country music to the stage at Happy Days Lodge, as part of the Cuyahoga Valley Heritage Series. The concert begins at 8 p.m. on Friday, November 5, 2010 in Cuyahoga Valley National Park (CVNP). The Heritage Series, presented by the National Park Service and Cuyahoga Valley National Park Association (CVNPA), celebrates the cultural legacy of the Cuyahoga Valley. The series is sponsored by Courtyard Marriott-Akron/Stow, 89.7 WKSU, Lloyd L. & Louise K. Smith Foundation, Ohio Arts Council, and Cable 9. Doors open at 7 p.m.
Admission is $17 adults, $12 CVNPA members, and $5 children ages 3 - 12. General seating. Advance sales are available until 3 p.m. on Friday for that weekend's show by calling (330) 657-2909 or stopping at Park Place in Peninsula, located at 1593 Main Street, in Peninsula 44264. You can create your own subscription series—enjoy three great Cuyahoga Valley Heritage Series concerts for one low price! No cash refunds, but tickets may be exchanged up to 10 days before the concert. Series prices: $45 adults, $30 CVNPA members, and $15 children ages 3 - 12.
You could call it an attraction...a curiosity...an anticipation of surprise and delight. But there is a better word to describe what the music of The Greencards inspires…fascination. If you have followed this multinational threesome over these past five years, you know the feeling. From their personal histories through the content of their work, grounded in deep musical tradition but elevated by breathtaking technique and conceptual adventurousness, there is ample reason for interest ... for excitement ...for fascination. It was, first of all, their fascination with American roots music–bluegrass especially–that drew singer/bassist Carol Young and multiple string-instruments master Kym Warner from Australia to Austin, Texas, where they began performing together with fiddler Eamon McLoughlin.
All of which leads to their Sugar Hill Records debut Fascination, the band's most daring musical accomplishment to date. Meticulously crafted arrangements serve as springboards for exhilarating improvisations. Complex and rich as Fascination is the motivation behind it could not be simpler. "We set out to make this music different from anything we did on our first three albums," Young explains. "So we wrote accordingly. And we took much more time than we'd ever taken before. Normally, we start writing a couple of weeks before recording...and this time, we took eight or nine months," says Warner.
The urge to challenge themselves, to test the limits of any established genre, guided them on their first three albums. It kept them focused as they accumulated awards and acclamations, from the Americana Music Award in 2006 for "Emerging Artist of the Year" through tours with Bob Dylan and Willie Nelson to last year's "Best Country Instrumental Performance" Grammy nomination for "Mucky The Duck," a track from Viridian in 2008, and another in 2010 for "The Crystal Merchant" from Fascination.
Upcoming Concerts:
Friday, November 12
The Wiyos: country blues, ragtime, western swing
Saturday, December 11
Pine Leaf Boys: Cajun, holiday
Happy Days Lodge, located at 500 West Streetsboro Road (State Route 303) in Peninsula 44264, 1 mile west of State Route 8, is a restored Civilian Conservation Corps structure that provides a rustic ambiance for folk and traditional concerts, theater, lectures, and special event rentals. For more information on rentals, call CVNPA at (330) 657-2909 ext. 119.
CVNPA is a nonprofit organization created to engage public support for the park and provide services to enhance public use and enjoyment of the park. For more information about CVNPA and its membership program, visit www.cvnpa.org or call (330) 657-2909.
CVNP encompasses 33,000 acres along the Cuyahoga River between Cleveland and Akron, Ohio. Managed by the National Park Service, CVNP combines cultural, historical, recreational, and natural activities in one setting. For more information visit www.nps.gov/cuva or www.dayinthevalley.com or call (330) 657-2752 or (800) 445-9667.
-NPS-