River Restoration: Long-term Projects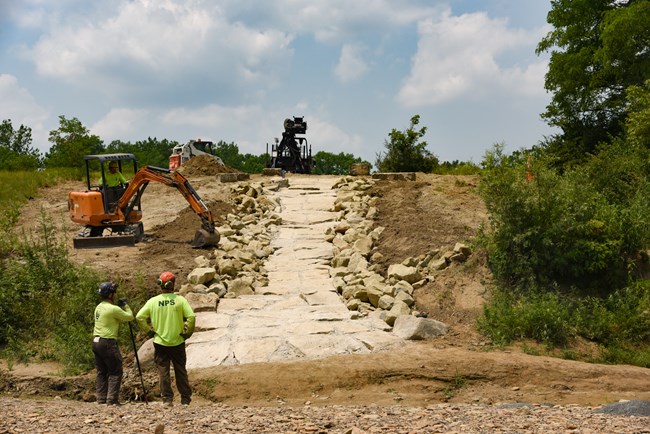 River Access Improvements
The park is improving existing river access and planning new places for wildlife viewing, paddling, and fishing along the Cuyahoga River Water Trail.

In 2021, a new boat ramp was built at the Station Road Bridge River Access.

At the Lock 39 River Access, we have been removing invasive plants and replanting with native ones. This will improve wildlife habitat and better control soil erosion. Phase two will involve improving the river access trail, adding signage to delineate access, and eventually barnstones to improve paddler's ability to enter and exit the river at Lock 39. See the current conditions at our Lock 39 Photo Gallery.
Army Corps of Engineers Floodplain Restoration
This project will reshape areas of the floodplain on both sides of the Cuyahoga River one mile south from Station Road Bridge. Work will impact Towpath Trail access and Station Road Bridge Trailhead parking. It might affect river access. Towpath Trail closures between Station Road Bridge and Red Lock trailheads are possible.
Wetmore Habitat and Wetland Restoration
The site was be mowed to prepare it for reforestation efforts. Reforestation began in September 2019 and continued through the fall of 2020. Reforestation and restoration includes planting native tree species such as sycamore, red maple, and cottonwood. Most of the work will be done by park staff and volunteers.

Projects in the Wetmore area include the following goals:
Improve water quality, enhance wildlife habitat, and decrease erosion through the removal invasive species on over 110 acres of degraded habitat including fields, former wetlands, and previously forested land.
Reforest approximately 29 acres of former pasture, and establish woody vegetation along about 700-linear feet of Dickerson Run.
Create a small (less than half acre) wetland to retain stormwater runoff and improve the condition of up to 1,000-linear feet of streams near the Wetmore Trailhead parking lot using a technique called regenerative stormwater conveyance. This is a technique for restoring streams with a series of steps and pools.
Boston Area Improvements
Parking has been reconfigured near Boston Store to improve pedestrian flow and access to the Towpath Trail, facilities and other services.
Some hardened surfaces are planned to be removed to reduce runoff into the Cuyahoga River.
A pedestrian bridge over the Cuyahoga River will be constructed to provide safe access between Boston Mill Visitor Center and the Boston Store area. Construction is expected to begin in the summer of 2022 and last approximately 6 months. The project is managed by the Office of the Summit County Engineer.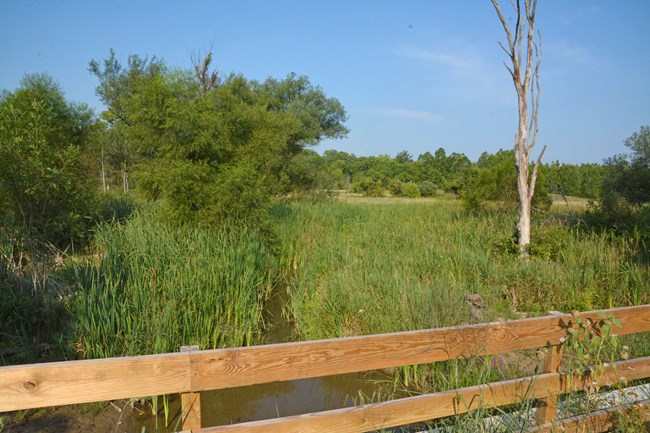 Stanford Run Restoration
Stanford Run has been modified over the years by agricultural activities, construction of the Ohio & Erie Canal, and regional development. The stream was cut off from the Cuyahoga River and a large wetland of invasive plants formed. As a result, Stanford Road regularly flooded. From winter 2019 to winter 2020, the US Army Corps of Engineers installed a larger culvert under the Towpath Trail and excavated a new meandering stream channel. Volunteers planted about 1,000 native trees. Construction has been completed, but habitat restoration continues.

For more information on restoration in the Stanford Run area, please visit our Stanford Run Restoration Photo Gallery.
Jaite Mill Remediation
Evaluation and mitigation of contamination and contaminated soils associated with the historic Jaite Paper Mill. Work will involve closures to the Towpath and Valley trails between Boston and Red Lock trailheads.
Get Involved!
Are you interested in helping restore the health of the Cuyahoga River? Join us for one of our habitat restoration volunteer opportunities.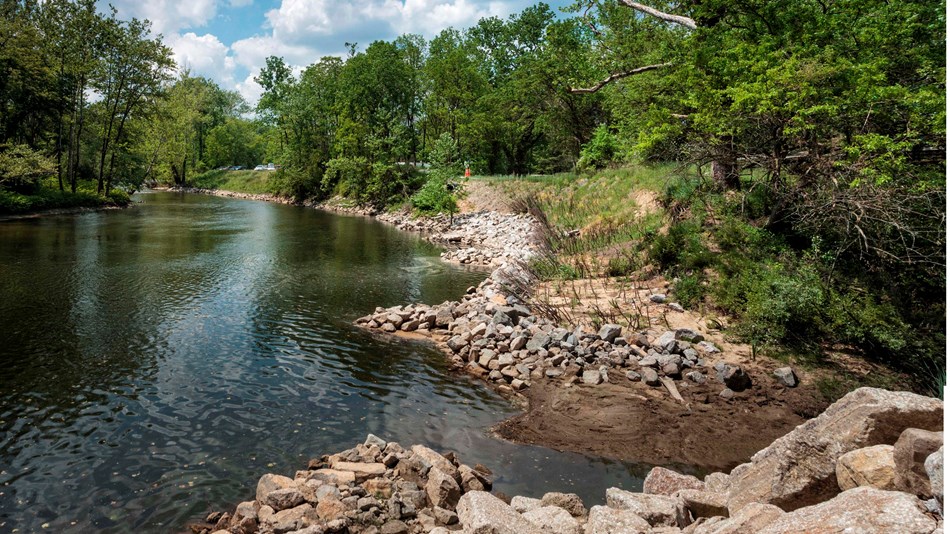 Happening Now
Although these projects have been in the planning and funding stages for several years, we expect the on-site work will be completed within
Last updated: April 16, 2022