Date:
September 18, 2012
Contact:
Mary Pat Doorley, CVNP
, 440-546-5995, 440-343-7355 (cell)
Contact:
Lisa Meranti, Conservancy,
, 330-657-2364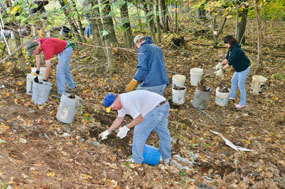 Cuyahoga Valley National Park Volunteer Program
Building a Community of Park Stewards
Brecksville, Ohio - Be part of a nationwide day of service! The National Park Service and the Conservancy for Cuyahoga Valley National Park want your help in habitat restoration and trail repair on Saturday, September 29 in Cuyahoga Valley National Park (CVNP). Sponsored by The North Face - Woodmere, this half-day long event is part of National Public Lands Day. National Public Lands Day is a nationwide effort that promotes stewardship and enhancement of America's public lands coordinated by the National Environmental Education Foundation.
Volunteers can choose from two projects in CVNP:
Planting 2,000 trees and shrubs to help restore native habitat (9 a.m. - 1 p.m.);
Repairing and improving a bridle trail (a more strenuous physical activity, with the option to volunteer through 3:30 p.m.)
Volunteers will receive a fee free pass for a federal public land area that has entrance fees (single-use pass), and giveaways and a chance for a $100 gift card from The North Face - Woodmere.
Advance registration is required to volunteer@forcvnp.org or 330-657-2299 by September 26. Meeting location is given upon registration. If you would like to register a group of up to 10 participants, please call 330-657-2296 for more information. Ages 7 and up with parent or guardian supervision. Tools provided. Wear sturdy boots and dress for the weather.
Everyone is welcome to join us for lunch and ice cream (available for purchase at Trail Mix Boston). There will be games, kids activities, and displays about the TRAILS FOREVER program from 11 a.m. - 3 p.m. Trail Mix Boston is located at 1565 Boston Mills Road in Peninsula, 44264. About the Volunteers-in-Parks Program
CVNP's VIP program is co-managed by the National Park Service and the Conservancy for Cuyahoga Valley National Park. Together, they accomplish park goals through mutually beneficial volunteer experiences and engage people in the park, building a community of park stewards. Currently more than 5,700 VIPs donate over 154,800 hours to provide the highest level of quality services to park visitors and to help protect America's heritage.
To join these volunteers in making a difference at CVNP, contact the volunteer office at volunteer@forcvnp.org, 330-657-2299, or visit www.conservancyforcvnp.org. Many opportunities are available and training is provided.
About the Conservancy for Cuyahoga Valley National Park
The Conservancy for Cuyahoga Valley National Park is a non-profit organization created to engage public support for the park and provide services to enhance public use and enjoyment of the park. For more information about the Conservancy and its programs, visit www.conservancyforcvnp.org or call 330-657-2909.
About Cuyahoga Valley National Park Cuyahoga Valley National Park encompasses 33,000 acres along the Cuyahoga River between Cleveland and Akron, Ohio. Managed by the National Park Service, CVNP combines cultural, historical, recreational, and natural activities in one setting. For more information visit www.nps.gov/cuva or call 330-657-2752.
# # #