Date:
March 4, 2011
Contact:
Mary Pat Doorley
, 440-546-5995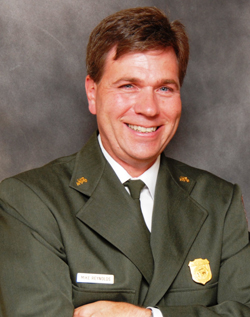 Midwest Regional Office News Release
Washington, DC - National Park Service (NPS) Director Jonathan B. Jarvis announced today that he has selected Michael T. Reynolds to serve as the agency's Midwest regional director. Reynolds will begin his new duties in early May, 2011.
"Mike has a dynamic management approach to building and maintaining relationships and collaborative problem-solving with local communities, regional stakeholders, and interest groups and an innate talent for helping individuals and groups work together to achieve a common goal," said Jarvis. "He has earned the right to take on this new assignment as part of the next generation of leaders of the National Park Service."
"The Midwest region boasts great parks and programs that tell of our nation's history and includes some of our most treasured natural and recreational areas," said Reynolds. "I look forward to working with a
dedicated team of professionals to build on the successes of the past and move forward into a second century of progress for the region and the National Park Service."
Reynolds has served as deputy regional director of the Northeast region since 2008. Earlier, as superintendent of Fire Island National Seashore, he created innovative ways to work with the local community and park partners and reorganized park operations to create a more efficient organization grounded in sound business planning. His NPS career also includes stints as a resource manager, planner, legislative staff, and a division chief in three parks.
The third generation of his family to work for the National Park Service, Reynolds grew up in Yosemite National Park. He earned a bachelors degree in Environmental Studies from the University of California, Santa Barbara and an MBA from Regis University in Denver.
Reynolds replaces the recently retired Ernest Quintana who served as Midwest regional director from 2003-2011. On January 31, Quintana was honored on his last day of 41 years of service to the federal government with the announcement of the establishment of the Ernest Quintana Diversity Scholarship Fund to help NPS employees complete their college education.
The Midwest region covers 13 states (Arkansas, Illinois, Indiana, Iowa, Kansas, Minnesota, Missouri, North Dakota, South Dakota, Ohio, Michigan, Nebraska, and Wisconsin) that are home to 58 national parks which welcome more than 20 million visitors every year. Parks in the region include Jefferson National Expansion Memorial in St. Louis, Cuyahoga Valley National Park in Ohio, Mount Rushmore National Memorial in South Dakota, and America's newest national park, President William Jefferson Clinton Birthplace Home National Historic Site in Hope, Arkansas. In addition to overseeing the management of national parks, the regional office provides a broad array of support to parks and assistance to communities through programs like the Rivers and Trails Conservation Assistance Program and Land and Water Conservation Fund.
-NPS-