Date:
January 20, 2011
Contact:
Mary Pat Doorley
, 440-546-5995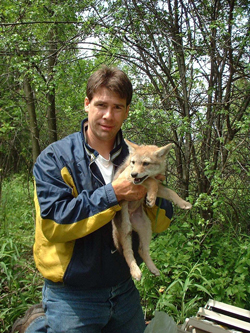 Cuyahoga Valley National Park News Release
Brecksville, Ohio – Cuyahoga Valley National Park (CVNP) is pleased to announce the first Lyceum Lecture in this year's series. On Friday, January 28, 2011, Dr. Stanley Gehrt presents "Coyotes in Your Backyard". The lecture, which begins at 7 p.m., will be held at Happy Days Lodge. Doors open at 6:30 p.m. General seating. Admission is $6 adults and $3 children ages 3 - 12. There are no advanced sales.
Originally known as ghosts of the plains, coyotes have now become ghosts of the cities, occasionally heard but rarely seen. Although a relatively recent phenomenon, coyotes have become the top carnivores in an increasing number of metropolitan areas across North America. This includes one of the largest urban centers in the Midwest–the Chicago metropolitan region. However, compared to other urban wildlife, we know very little about how coyotes are becoming successful in landscapes dominated by people. Dr. Gehrt, certified wildlife biologist and associate professor at The Ohio State University, has become an expert in urban coyotes. His decade-long research project in the Chicago area has revealed that urban coyote populations are much larger than expected, and that urban coyotes live longer and are more active at night than rural ones. Learn more about this fascinating study and about coyotes in our region, watch video of coyote behavior, and gain a greater understanding of this elusive creature.
Happy Days Lodge, located at 500 West Streetsboro Road (State Route 303) in Peninsula 44264, 1 mile west of State Route 8, is a restored Civilian Conservation Corps structure that provides a rustic ambiance for folk and traditional concerts, theater, lectures, and special event rentals. For more information on rentals, call CVNPA at 330-657-2909 ext. 119.
CVNP encompasses 33,000 acres along the Cuyahoga River between Cleveland and Akron, Ohio. Managed by the National Park Service, CVNP combines cultural, historical, recreational, and natural activities in one setting. For more information visit www.nps.gov/cuva or www.dayinthevalley.com or call 330-657-2752 or 800-257-9477.