Date:
February 14, 2013
Contact:
Mary Pat Doorley, CVNP
, 440-546-5995, 440-343-7355 (cell)
Contact:
Jared Slanina, Conservancy
, 330-657-2909 ext. 109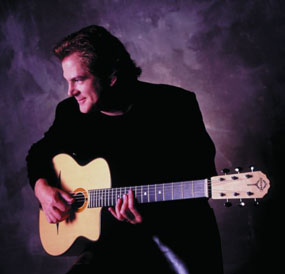 Brecksville, Ohio - John Jorgenson brings top-notch jazz guitar to the stage when his trio plays Happy Days Lodge as part of the Cuyahoga Valley Heritage Series. The show begins at 8 p.m. on Friday, February 22, 2013 in Cuyahoga Valley National Park (CVNP). Doors open at 7 p.m.  The group's performance is presented by the National Park Service and the Conservancy for Cuyahoga Valley National Park, celebrating the cultural legacy of the Cuyahoga Valley. The series is sponsored by Courtyard Marriott-Akron/Stow, 89.7 WKSU, Lloyd L. & Louise K. Smith Foundation, and Cable 9.
Admission is $17 adults, $12 Conservancy members, and $5 children ages 3 - 12. General seating. Advance sales are available until 3 p.m. on Friday by calling 330-657-2909. You can create your own subscription series-enjoy three great Cuyahoga Valley Heritage Series concerts for one low price! No cash refunds, but tickets may be exchanged up to 10 days before the concert. Series prices: $45 adults, $30 Conservancy members, and $15 children ages 3 - 12.
The John Jorgenson Trio features guitarist John Jorgenson, a founding member of the Desert Rose Band and the Hellecasters. Artists ranging from Barbra Streisand to Bonnie Raitt to Earl Scruggs have sought out Jorgenson's guitar work. In 1994, Elton John called and invited John on an 18-month world tour. The 18 months stretched into a six-year period that included not only sold out world tours, but also recordings, television appearances, and collaborations with many other artists including Sting and Billy Joel. In addition to acoustic and electric guitars, John was also featured on saxophone, pedal steel, mandolin and vocals.
At a John Jorgenson Trio performance, audiences are amazed by John's dazzling guitar work as well as his mastery as a clarinet player and vocalist. Whether playing his own accessible compositions or classic standards, John and his band make music that is equally romantic and ecstatic, played with virtuosity and soul.
Happy Days Lodge, located at 500 West Streetsboro Road (State Route 303) in Peninsula 44264, 1 mile west of State Route 8, is a restored Civilian Conservation Corps structure that provides a rustic ambiance for folk and traditional concerts, theater, lectures, and special event rentals. For more information on rentals, call the Conservancy at 330-657-2909 ext. 119.
The Conservancy for Cuyahoga Valley National Park is a nonprofit organization created to engage public support for the park and provide services to enhance public use and enjoyment of the park. For more information about the Conservancy and its membership program, visit www.conservancyforcvnp.org or call 330-657-2909.
CVNP encompasses 33,000 acres along the Cuyahoga River between Cleveland and Akron, Ohio. Managed by the National Park Service, CVNP combines cultural, historical, recreational, and natural activities in one setting. For more information visit www.nps.gov/cuva or call 330-657-2752.
-NPS-